KEVIN A. BIANCHI, CDR, USN
From USNA Virtual Memorial Hall
Date of birth: July 15, 1963
Date of death: July 16, 2003
Age: 40
Lucky Bag
Obituary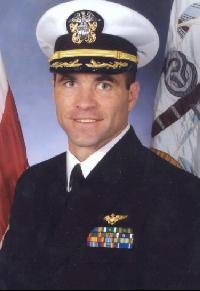 From Stars and Stripes:
Squadron executive officer from Maplewood, N.J. Born July 15, 1963. Graduated from the U.S. Naval Academy, Annapolis, Md., in 1985 with a bachelor of science degree in applied science. Assumed the duties of executive officer for Heavy Helicopter Support Squadron Four on Aug. 31, 2002. Survived by his wife, Rita Barrie, and children Kevin, Christopher and Julia.
Loss
From the New York Times on July 18, 2003:
Navy Crash Was Family's Second Tragedy
By CARLA BARANAUCKAS

When a Navy helicopter crashed on Wednesday in Sicily, killing four crew members, it was the second time such an accident left Albert Bianchi, of Maplewood, N.J., in grief.

Mr. Bianchi's son Cmdr. Kevin A. Bianchi, 40, died when an MH-53E Sea Dragon helicopter crashed and caught fire on a roadside about 10 miles southwest of the American Navy base at Sigonella in eastern Sicily. Three of the bodies, including Commander Bianchi's, were recovered on Wednesday. The fourth was found on Thursday.

"It's just complete devastation," said Mr. Bianchi, who lost his son Lt. Robert T. Bianchi in a Navy helicopter accident 16 years ago.

Robert Bianchi, 26, was piloting a twin-engine HH-46 on a routine training mission when it crashed in the Philippines, 32 miles north of the base at Subic Bay in 1987. Three others were killed in that accident.

But that did not deter Commander Bianchi from becoming a helicopter pilot, like his older brother.

"Kevin wanted to fly the same aircraft that his brother flew," Mr. Bianchi said in a telephone interview.

The Sicily crash occurred the day after Commander Bianchi's 40th birthday, said Mr. Bianchi, who traveled to Sicily last month to visit him and his wife, Rita, and their three children, Kevin, Christopher and Julia.

Commander Bianchi had been in the Navy for 18 years and was a graduate of the United States Naval Academy at Annapolis, Md., where he was captain of the wrestling team, Mr. Bianchi said.

"He was extremely outgoing, loved to dance," Mr. Bianchi said. "He was a great dancer; he was very sincere, very dedicated."

Mr. Bianchi, a retired electrical engineer and business executive, was never in the military, but three of his four sons graduated from the Naval Academy. He said his eldest son, James, lived in Michigan and was still a member of the Naval Reserve. His youngest son, Richard, lives in Basking Ridge, N.J., and is a vice president of a bank.

Kevin Bianchi will be buried in New Jersey next to his brother Robert, Mr. Bianchi said.

The other crew members killed in the crash on Wednesday were Lt. Peter Ober, 27, of Jacksonville, Fla.; Aviation Structural Mechanic 1st Class Brian P. Gibson, 33, of Richmond, Va.; and Aviation Electrician's Mate 3rd Class Samuel Cox, 21, of Duluth, Minn.
Remembrances
From the Naval Academy Alumni Association's updated "In Memoriam" page:
I just always say it has been a great adventure. Living wonderful places, meeting wonderful people. My husband and I both loved what the military gave us. He loved to fly and loved his job. Barrie Bianchi
From a memorial page written for a recent (August 2017) golf outing:
Kevin Bianchi was an unforgettable guy. He was blessed at birth with athletic talent, a loving heart, and a memorable personality. He could light up a room or be "the life of the party" as well as anyone you've ever seen. If Kevin was your friend, you knew you could count on him to have your back. A physical force to be reckoned with despite his 5'-6" frame, pound for pound, he was one of the toughest men you'd ever meet.

At Navy, Kevin was one of the special people that stood out in a crowd of talented individuals. He could also be entertaining and funny, even a little bit of a knucklehead at times, but that was just part of his charm. His popularity and athletic talent at Navy were well documented. What was more notable was that he had these gifts, and the respect of his peers, but he never let any of that go to his head. He was sincerely humble, an important character trait that is especially hard to master when you're brimming with talent.

Perhaps the fact that he captained the wrestling team sums it up perfectly. Three other men on that team rose to the rank of Admiral several others have gone on to achieve exceptional success in business. Kevin was a leader among that prestigious group.

Later, he and Barrie we're married and Kevin was blessed to enjoy a loving wife and three beautiful children. As a Naval Officer, Commander Bianchi became known as an officer widely respected by his subordinates and collect the lake. He was an accomplished helicopter pilot, or the numerous awards over is nearly 20 year career. In many ways, Kevin had it all.

It was certainly devastating blow to all who knew and loved him, especially his family, when Kevin left us. Even so, it's hard not to smile when you think of Kevin today. Remembering something he did or said, that wide grin or the belly laugh with his head rocked all the way back! Kevin will always be remembered fondly.

Today, we pay tribute to the entire Bianchi Family. Their beloved Kevin is gone, but his memory can live on, in part, through our efforts here today and into the future. The Kevin Albert Bianchi Memorial Fund dreams that someday, Kevin's legacy will be enhanced with a long list of families that were touched and support through the foundation that bears his name.
Related Articles
Kevin's brother, Robert Bianchi '83, was also killed in a helicopter crash.
Kevin is one of 3 members of the Class of 1985 on Virtual Memorial Hall.