ROBERT T. BIANCHI, LT, USN
From USNA Virtual Memorial Hall
Date of birth: March 13, 1961
Date of death: March 23, 1987
Age: 26
Lucky Bag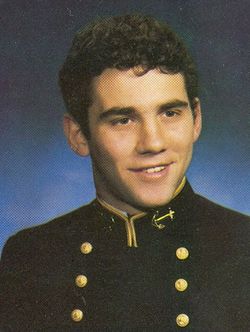 Loss
Bobby was killed when his helicopter crashed 32 miles north of Subic Bay, Philippines, in March 1987.
Remembrances
An exceptionally heartfelt remembrance, in multiple parts, can be found here: http://outhereinmyworld.blogspot.com/2010/06/part1-meeting-bobby.html
Memorials
The Lt. Robert T. Bianchi Award is awarded to the Most Valuable Player on the Naval Academy lacrosse team.
Related Articles
Robert's brother, Kevin Bianchi '85, was also killed in a helicopter crash.
Robert is one of 9 members of the Class of 1983 in Memorial Hall.