LEON E. CHABOT, CAPT, USMC
From USNA Virtual Memorial Hall
Birthdate & Date of Loss
| | |
| --- | --- |
| Date of birth: | March 11, 1917 |
| Date of death: | September 7, 1944 |
| Age: | 27 |
Lucky Bag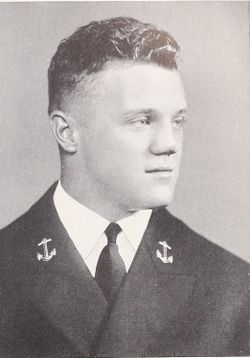 From the 1940 Lucky Bag:
LEON EDMOND CHABOT

Gardner, Massachusetts

He spends most of his time running the boards in winter and the cinder track in the spring, where he consistently contributes two first places to Navy's score. He drags, when he is able, on week-ends, writes innumerable letters, dozes in class, at drill, and over his books. In spite of his always wanting more sleep, recreation periods rarely find him in his room. A man of strong likes and dislikes, lasting decisions, and firmness of purpose, Leon takes things as they come and makes the best of them. The ability to absorb himself wholeheartedly and completely in the task at hand assures him of success.
Loss
Leon was lost when the Shin'yō Maru, a POW ship, was torpedoed by USS Paddle (SS 263) on September 7, 1944.
His father was listed as next of kin.
Career
From History of Class of 1940:
After Basic School, Leon was assigned to the Philadelphia Navy Yard. In March, 1941, he was transferred to the Marine Corps Base, San Diego, and soon after was sent to the Marine Barracks, Naval Station, Olangapo, P.I. When the Japanese invasion came, Leon left Olangapo with the Second Battalion, Fourth Marines, for the Mariveles River and from there in January, 1942, to prepare for beach defense of Corregidor, then under heavy fire. He was captured on 6 May 1942 and held prisoner on a concrete apron on Corregidor for three days without food or water. On 23 May, he was put on a Japanese ship and taken to Duey Boulevard, about 30 miles across Manila Bay. He and other prisoners were marched through the streets of Manila to Bilibid Prison, whipped by Japanese cavalry as they rode up and down the line. The next day the prisoners were loaded into box cars, standing room only, no separation of ranks, and several died of fatigue and suffocation on this trip. After arrival at Cabanatuan City, Leon and the others were put in a school yard and given a very small ration of rice. The next day they walked nine miles to a prison, without shoes, over a rocky road, their feet suffering badly. Over 2000 prisoners died at Cabanatuan, mainly of malaria and dysentery. Twenty were executed by the Japanese. Some time late in 1942, Leon was sent with other prisoners to Davao in the Southern Philippines. On 3 September 1944, he was put aboard the Japanese ship SHINYO MARU, along with 750 other prisoners. The SHINYO MARU was torpedoed on 7 September by USS PADDLE, not knowing American prisoners were on board. Only 83 survived, and Leon was not one of them. Tab Collins
Silver Star
Via Find a Grave:
Frpm FAG Member #48021049

The President of the United States of America, authorized by Act of Congress July 9, 1918, takes pleasure in presenting the Silver Star (Army Award) to Second Lieutenant Leon Edmond Chabot (MCSN: 0-6453), United States Marine Corps, for gallantry in action while serving with Company E, Second Battalion, Fourth Marines, at Fort Mills, Philippine Islands, 16 and 17 February 1942. During the course of an enemy artillery bombardment on Fort Mills on 16 February 1942, Lieutenant Chabot, from the vicinity of his command post on the South Shore Road, observed the location of an enemy battery. In the midst of shell fire and without regard for his personal safety, Lieutenant Chabot worked his way to the seaward defense command post and reported the position, enabling our artillery to take the battery under fire. On 27 February 1942, Lieutenant Chabot repeated the above described performance under similar conditions.

General Orders: Headquarters, Philippine Coast Artillery Command, General Orders No. 16 (March 13, 1942)
Action Date: February 16 & 17, 1942
Service: Marine Corps
Rank: Second Lieutenant
Company: Company E
Battalion: 2d Battalion
Regiment: 4th Marine Regiment
Prisoner of War Medal
From Hall of Valor:
First Lieutenant Leon Edmond Chabot (MCSN: 0-6453), United States Marine Corps, was captured by the Japanese after the fall of Corregidor, Philippine Islands, on 6 May 1942, and was held as a Prisoner of War until his death while still in captivity.

General Orders: NARA Database: Records of World War II Prisoners of War, created, 1942 - 1947
Action Date: May 6, 1942 - MIA in Captivity
Service: Marine Corps
Rank: First Lieutenant
Division: Prisoner of War (Philippine Islands)