MAURICE I. GLAD, LT, USN
From USNA Virtual Memorial Hall
Lucky Bag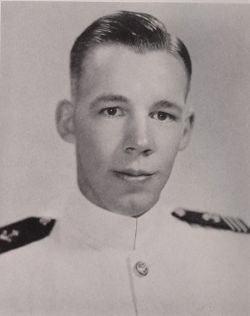 From the 1944 Lucky Bag:
Maurice Irving Glad

Omaha, Nebraska

Among the Regiment's best scholars, M. I. was as good-natured, and as helpful a fellow as ever wore stars. Industrious and conscientious, h was often found coaching some grateful classmate. Never glued to books, Maurice engaged in an awesome number of activities. He acted, sang a hearty bass in the glee club and choir, and strung his tall bathrobe with awards of track, cross country, fencing, and crew. M. I.'s very Glad-ness, his close affinity to the Nebraska sod, and his inability to cope with an anchor chain brought this genial "farmer" a lot of ribbing. He's going places in the Fleet. We'll be right behind him—if we can keep up!
The Class of 1944 was graduated in June 1943 due to World War II. The entirety of 2nd class (junior) year was removed from the curriculum.
Loss
From The Courier-Journal of Louisville, Kentucky, on May 19, 1950:
Lt. Maurice I. Glad, U.S.N., Jacksonville, was killed yesterday when the attack-dive-bomber he was flying crashed in Stevens Lake south of Camp Blanding [Florida], the Navy announced today. Cause of the mishap was undetermined. The body has not yet been recovered.