MELVIN L. STOLZ, LTJG, USN
From USNA Virtual Memorial Hall
Date of birth: July 29, 1888
Date of death: May 8, 1915
Age: 26
Lucky Bag
From the 1910 Lucky Bag:
Loss
Melvin was lost on May 8, 1915 when he fell out of the "AH-9 hydroaeroplane" he was piloting at Pensacola, Florida.
He was survived by his parents and two sisters. He is buried in New York.
Other Service
In April 1914 he was a student aviator who nonetheless deployed aboard USS Mississippi (Battleship No. 23) "to assist in operations at Vera Cruz." Some other pictures are here. He flew "many flights" over the Mexican military positions there.
Related Articles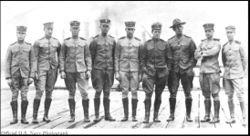 Melvin is one of 15 members of the Class of 1910 on Virtual Memorial Hall.