MICHAEL L. ORRISON, LT, USN
From USNA Virtual Memorial Hall
Date of birth: February 5, 1948
Date of death: June 6, 1976
Age: 28
Lucky Bag
From the 1971 Lucky Bag:
Shipmate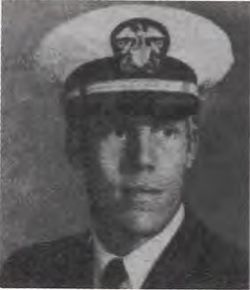 From the March 1977 issue of Shipmate:
Lt. Michael Leggett Orrison USN died on 6 June 1976 in the crash of his A-6E Intruder aircraft near Goldendale, Washington. His bombardier-navigator, Lt.(jg) Michael Donovan USN was also killed. Memorial services for the two officers were held at the Whidbey Island Naval Air Station on Wednesday, 16 June.

Lt. Orrison was bom in Honolulu and received an at-large appointment to the Naval Academy. He was graduated with the Class of 1971 and proceeded to duty on board the destroyer Sommers before entering flight training in 1972. He received his wings in 1973, then reported to VA-128 for A-6 instruction. In October 1974 he reported to VA-95 and he had made a WestPac deployment with the squadron aboard Coral Sea.

He is survived by his parents, Charles Orrison and Docia Meisenheimer, both of Sherman Oaks, California.
Michael is one of 14 members of the Class of 1971 on Virtual Memorial Hall.