MICHAEL M. QUIN, CAPT, USMC
From USNA Virtual Memorial Hall
Lucky Bag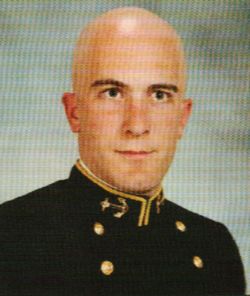 Obituary
From Leesburg Today
U.S. Marine Corps Capt. Michael Quin was killed February 22, 2012 when two helicopters collided while training in Arizona in advance of a deployment to Afghanistan. The Purcellville resident was a 2002 Loudoun Valley High School graduate.

Michael lost his life, along with six others, in a remote area of the 1.2 million-acre Yuma Training Range Complex in Arizona during the two-week "Scorpion Fire" training mission that was to have been his last before being deployed to Afghanistan in April.

After graduating Loudoun Valley High School, he graduated from the U.S. Naval Academy in 2006 and joined the Marine Corps.

Quin had recently become engaged, and had planned to spend a week away with his fiancée before coming home for four or five days with his family before leaving in early April for Afghanistan.

Looking back on his son's life, "He was the kind of kid who didn't really require much correction from us," his father, Brad, said, noting Michael Quin seemed to have the ability to naturally make good choices in life. Before 9/11 patriotism welled up in the country, Michael was like other kids of his generation—dedicated to his family, sisters, studies and his soccer team.

Michael Quin seemed to have this sense of looking at "something else down the road," to his decision to join the Marine Corps, his father said. When Brad Quin asked him why he had applied to join the Corps, his son seemed to appreciate the support system the force represented, the way its members gave each other total support no matter their function or level within the Corps.

At the Naval Academy, it was tough going at first. The curriculum is heavy on science, and students graduate with bachelors of science degrees, even if you're studying history and Spanish, as Michael Quin did. But he sucked it up, did what he was supposed to be as a plebe—invisible.

"I could see he was growing, and he had this sense of something else coming down the road," his father said, noting that perception has been borne out by statements posted on the website set up to collect memories and tributes, michaelquin.com.

Michael was "winged" Dec. 2, 2008. His parents' pride in those naval aviator's wings of gold "is more than you can imagine," Brad Quin said.

Capt. Quin is survived by his parents, his sisters, and his fiancée.
Michael is buried in Arlington National Cemetery.
Related Articles
Thomas Budrejko '96 was aboard the other helicopter that crashed.
Michael is one of 4 members of the Class of 2006 on Virtual Memorial Hall.