NORMAN L. WILKY, LT, USN
From USNA Virtual Memorial Hall
Lucky Bag
From the 1944 Lucky Bag:
Obituary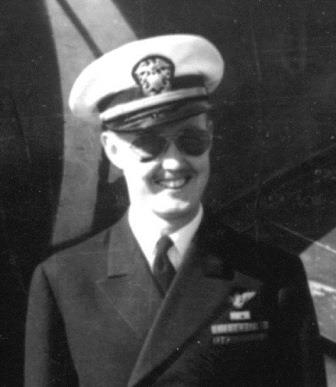 From National Air and Space Museum Wall of Honor:
Lieutenant Norman L. Wilky journeyed from his Los Angeles home to the U.S. Naval Academy at Annapolis as a member of the 1944 Naval Academy class, men who, by history's vicissitude, became "three-year wonders." He graduated in 1943 and served the remainder of World War II aboard the battleship Massachusetts.

Devoted to the Navy, he wanted next in his career to join those who, in the words of his favorite poem "High Flight," have "slipped the surly bonds of earth and danced the skies" in the "high untrespassed sanctity of space" and "touched the face of God." At Pensacola he earned the wings insignia of a pilot. He also proudly wore the "Pegleg Pete" emblem when his squadron flew from the second carrier Princeton and received the honor of making the ten-thousandth landing on U. S. S. Boxer.

Norm was killed accidentally in 1948 while commanding a training mission. There is a measure of solace that his premature passing came in a place and fulfilling duty he cherished: In the air, flying a Corsair, serving his country. The Wall of Honor engraving is dedicated by his wife and two children in loving memory.
The Register of Alumni gives his date of death (February 4, 1948) and "plane crash at sea Pacific area."
Norman is one of 66 members of the Class of 1944 on Virtual Memorial Hall.
The "category" links below lead to lists of related Honorees; use them to explore further the service and sacrifice of the alumni in Memorial Hall.