PATRICK K. INGLIS, LTJG, USN
From USNA Virtual Memorial Hall
Date of birth: June 2, 1957
Date of death: May 22, 1983
Age: 25
Lucky Bag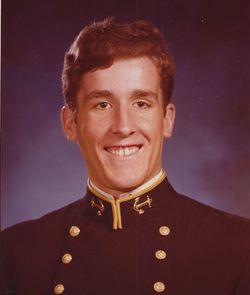 Loss
From A-6 Intruder & EA-6 Prowler Losses & Ejections, Pat is listed as lost on May 22, 1983 when the A-6E Intruder he was piloting stalled at a low altitude on a training mission. He was attached to VA-65 operating from USS Eisenhower in the Eastern Mediterranean Sea. His bombardier/navigator, LCDR John Austin, was also killed.
From the July/August 1983 issue of Shipmate:
Lt. (jg) Patrick Kelley Inglis USN was killed in an aircraft accident in the Mediterranean on 22 May 1983 when his A-6 aircraft was lost at sea. He was flying from EISENHOWER at the time of the fatality. A memorial service was held at the Naval Air Station, Oceana, on 26 May, and a Mass of Resurrection was celebrated at the Naval Academy Chapel on 29 May.

Appointed to the Naval Academy from the State of Maryland, he was graduated with the Class of 1980. As a midshipman he had played lacrosse for two years, was a company commander in his first class year, and was named to Sigma Iota Epsilon, the honor society for resource-management majors. He had attended the Naval Academy Preparatory School prior to receiving his nomination to the Academy.

Flight training followed graduation, and he had been stationed at Pensacola, Chase Field in Texas, and Oceana Naval Air Station in Virginia Beach. He was designated a naval aviator in 1982, and he reported to Attack Squadron 65 in April 1983 as power plants branch officer. He was a life member of the Naval Academy Alumni Association.

He is survived by his widow Valerie, 1407 Doe Court, Virginia Beach VA 23464; his parents, Mr. and Mrs. Robert L. Inglis Sr. of Linthicum Heights, Maryland; two brothers including Capt. John Inglis USAF '76, stationed at the Naval Academy, and three sisters; and his maternal grandparents. The family has suggested that memorial contributions be made to the Naval Academy Alumni Association, 247 King George St., Annapolis MD 21402.
Memorials
The United States Naval Academy lists the "LTJG Patrick K. Inglis, USN, Memorial Award" as one of the Academy-wide prizes and awards.
Patrick is one of 11 members of the Class of 1980 on Virtual Memorial Hall.