RANDOLPH C. HANBACK, LTJG, USN
From USNA Virtual Memorial Hall
Birthdate & Date of Loss
| | |
| --- | --- |
| Date of birth: | March 14, 1930 |
| Date of death: | February 2, 1956 |
| Age: | 25 |
Lucky Bag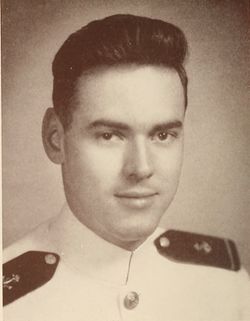 From the 1953 Lucky Bag:
RANDOLPH CLAY HANBACK

Alexandria, Virginia

Young Randy first saw the light of day in the Deep South, Warrenton, Virginia. Realizing his error he moved to Washington, D.C., at the tender age of seven. After graduating from Western High he entered active duty as a weekend warrior. Although his first tour of duty was short, Randy was deeply bitten by the Navy-Blue-and-Gold Bug. He entered Sully's Prep to prepare for the entrance exams. Soccer and dragging brightened the days spent at Navy with dragging taking the honors. Studies took a minimum of time, with letters to his OAO taking up much of the study periods. Skinny fought a losing battle with Chopin, Bizet, and Bach. It's wedding bells and Wings for Randy.
Loss
From Find A Grave:
Killed in aircraft accident at NAS Atlantic City, NJ durung practice Ground Controlled Approach under actual weather conditions. His last words on the GCA tape were,"Vertigo, vertigo, wherefore art thou vertigo?"
The crash occurred on February 2, 1956. He was survived by his wife, Karlene; she remarried and passed away in 2014.