RAYMOND C. DALEY, 1LT, USMC
From USNA Virtual Memorial Hall
Date of birth: November 30, 1943
Date of death: July 3, 1968
Age: 24
Lucky Bag
From the 1966 Lucky Bag:
Loss
From Wall of Faces:
On July 3, 1968, a U.S. Marine Corps helicopter CH-46A (tail number 151911) from Marine Medium Helicopter Squadron 164 (HMM-164) was shot down with the loss of four crewmen and nine passengers. The aircraft was attempting an insertion in an area known as Elephant Valley. The valley is steep and runs east to west with a stream in the middle of it. The bottom of valley is narrow and the only approach is east or west. Aircraft commander CAPT James L. Littler III went in east to west and landed near the stream. Hueys (UH-1 helicopter gunships) covered both sides of the CH-46 during the insertion. CAPT Littler was only in the zone for seconds when he yelled he was taking fire. The gunships sprayed the side of the ridgeline where he called the fire from. CAPT Littler pulled out of the landing zone and was heading west when he made an inaudible radio transmission to one of the gunship commanders. At the same time he made a hard 180 degree turn to go back into the zone. He was belly up to the ridgeline about 100-200 feet when he took fire, lost control and crashed almost where he initially landed. The aircraft exploded upon impact. One of the gunship pilots later stated that he did not see the entire recon team exit the aircraft upon initial landing, but thinks that only one or two had gotten off. When the crew chief informed CAPT Littler of this during the initial departure, it is believed he decided to go back in to get them. He crashed right on anyone who was in the zone. The lost crew members included CAPT Littler, pilot 1LT Raymond C. Daley, and crewmen CPL Randell B. Little and SSGT John C. Bilenski. The nine passengers were CAPT John D. Dalhouse, SGT Joseph J. Jones, LCPL William C. Moon, LCPL Paul Scheckler, LCPL Fay C. Simmons III, CPL William D. Johnson Jr., CPL Gary D. Tisdall, CPL Sherman D. Vance, and PFC Alton House. [Taken from popasmoke.com]
Obituary
From the November 1968 issue of Shipmate:
1st Lt. Raymond C. Daley, USMC, was killed in action 3 July when the helicopter, of which he was co-pilot, was hit by hostile fire and crashed in Quang Nam Province, Vietnam. A memorial service was held in the chapel at Marble Mountain Air Facility, the base from where his squadron was operating; later, a concelebrated mass was held in St. Timothy's Church, West Hartford, Conn. Interment was in Soldiers Field, Fairview Cemetery, with full military honors.

Lt. Daley was born in Providence, R.I., and graduated from William Hall High School where he was captain of the cross-country team. He attended Providence College a year before entering the Naval Academy. He was on the Fifth Battalion Staff throughout each set, and was active in cross-country and the Scuba Club; he was an avid stamp collector. During second class summer he received his jump wings at Ft. Benning, Ga.

Following graduation from the Naval Academy in 1966, Lt. Daley completed Basic School at Quantico, and attended Flight School in Pensacola, Fla. He received his wings in February of this year. His helicopter training was completed at Santa Ana Air Facility, Calif. He had been serving with HMM-164, Marine Air Group 16, 1st Marine Air Wing, Fleet Marine Force Pacific.

Surviving are his widow, the former Nancy Elaine Sousa of West Hartford, Conn.; a son Brian Christopher, who was born on 17 Sept., and a daughter, Cheryl Anne, of 19 East Normandy Drive, West Hartford, Ct. 06107; a stepfather. Dr. John W . Geohegan, and two half-brothers, Terence and Kevin Geoghegan, of Shrewsbury. Mass. He was the son of the late Raymond Coyle Daley and the late Mrs. Rosemary Daley Geoghegan.
From Find A Grave:
Raymond the husband of Nancy S. Daley, loving father of Cheryl A. Daley of West Hartford CT, dear step-son of John W. Geoghegan of Shrewsbury MA, pre deceased by his parents Rosemary Geoghegan and Raymond C. Daley was commissioned a 2d Lieutenant in the U.S. Marine Corps on June 8 1966 in Annapolis Maryland. He arrived in Vietnam on June 22 1968 where he was assigned to and served with HMM-164, MAG-16, 1st Marine Air Wing, FMFPac.

On July 3, after inserting an eight man reconnaissance team from the 1st Recon Battalion six kilometers south of Bach Ma near the border of Nam Hoa and Thuong Duc Districts in Quang Nam province the Marines came under heavy enemy fire as the helicopter was departing. During the lift-off the CH-46D was also hit by intense automatic weapons fire, the pilot was killed and the aircraft caught fire. Out of control the helicopter crashed to the ground on top of the team killing all onboard and those Marines on the ground. 1stLt Daley was one of the casualties he was killed by the injuries he had sustained.
Remembrances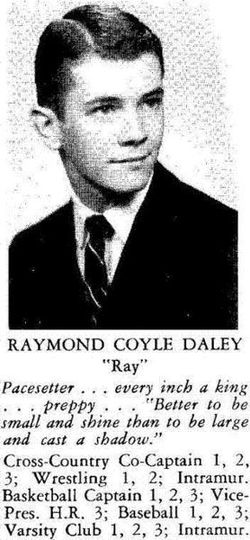 "Every inch a king"

Ray, you have been in my head a long time. Never had a chance to say goodby or console your family. Your fellow co-capain at Hall High -- Bob Dunne, peace and my prayers are with you & your family ROBERT E. DUNNE, CAROLAD@GATEWAY.NET, 6/2/99
Ray, As I become an ancient mariner, you will always be the picture of youth and vigor. These days, my memories of you as a fellow midshipman are sweet and lingering. I pray for your soul as I pray for my own - a good man who did his duty and deserves God's mercy and blessings. MANUEL LOPEZ, NAVAL ACADEMY ROOMMATE, 12/8/01
Ray was my best friend. He is one day older than I am. We laughed and cried together as we went through The Basic School and flight training. We were separated by two weeks of training which he wanted to get to prepare himself as a forward air controller. I last saw him at the end of June 1968, just a day or two after he arrived in the Da Nang area flying for HMM-164. He was just starting his moustache. He looked great! Just a few days later he was shot down while flying as copilot in a CH-46. He was able to return fire though strapped in upside down in the cockpit of the wreckage ... he died like a Marine!

T. M. "Skip" Curtis
Colonel USMC (Retired) T. M. "SKIP" CURTIS SCARFACE, six@aol.com, 11/14/99
His dad knew my dad in Hartford Ct. For those of you who know the story of his family that is important. He stopped by our house every Christmas. Thanks to Ray, the Daley family, and the Geoghan family for their sacrifice.

Memorial Day 2014 ROBERT L HANNAN MD, 5/26/14
Memorial
Ray and I were in the same platoon at the Basic School and attended flight school together. We got to RVN at the same time and joined HMM-164. We were hootch mates up until the day he was killed. Now 50 years later our Basic School Class is doing a Memorial Service including the planting of a tree with a bronze plaque to honor Ray's service. This service will take place in Memorial Hall at the Academy on 15 Dec 2018 at 1400.

Colonel John "Ace" Astle, USMC (ret), December 9, 2018
Raymond is one of 36 members of the Class of 1966 on Virtual Memorial Hall.