RICHARD A. WALSH, III, COL, USAF
From USNA Virtual Memorial Hall
Lucky Bag
From the 1951 Lucky Bag:
Remembrances
From an email on January 13, 2018:
He was a wonderful father, all in for his wife and 5 children, and I am lucky to be his daughter. He grew up in St. Paul, Minnesota, the second oldest of 6 children. He enlisted in the Marines in 1944, after graduation from high school, and had his basic training at Camp Pendleton. He went to the Naval Academy Preparatory School (NAPS) in 1945. He started at Annapolis in 1946 and finished in 1951. He went into the Air Force in 1951 and had flight training at Greenville, Mississippi and Lubbock, Texas.

From the mid-1950s to the fall of 1968, my parents moved from Fairbanks, Alaska, to Dayton, Ohio, to Alexandria, Louisiana, to the Philippines, to Colorado Springs, Colorado--having us 5 children along the way. Then he was assigned to the 602nd Special Operations Squadron, and in the fall of 1968, after training at Hurlburt Field in Florida, he deployed to Nakhon Phanom Air Force base in Thailand. In that duty he was a Sandy pilot flying search and rescue missions. His last plane was the A1 Skyraider. He was shot down in Xekong Province, Laos, on February 15, 1969, in the course of a mission during which a downed pilot was successfully rescued. He was listed as Missing in Action until October 1979, when an administrative body made a presumptive finding of death. His remains have never been recovered. I remember and treasure his love, storytelling, songs, laughs, and how he believed in and protected us and our family. He was a good man. Maura Walsh, Daughter
From Virtual Wall:
Richard Walsh was 41 years old and was a husband and a father of five children, now grown, who wonder why he was sent to fly such a dangerous aircraft where so many men were shot down out of the sky, in this A-1 propeller aircraft. His adult children now think like civilians, who never have served in the United States Armed Forces, in times of conflict. They think that family men should be spared such hazardous duty. "It is not like this," is the reply. It would not occur to him to ask to have that consideration, as many of these men had families also. These heroic men have a code of honor that transcends their personal safety. What is it? Honor among them, and uncommon personal courage, intelligence, wisdom, and youthful optimism about the task to be completed. The study of military history will show that throughout times past, there are hundreds of thousands of these human beings who know that there are evils to be fought to the death. We mourn our personal loss and this honorable person who was in our lives for a short time. We the survivors, are always with them now, and then at the hour of their death, to live our long goodbye, not to see their beloved faces again here, as they walk on. In Flanders Field where poppies grow, or near the Mekong river in the foothills of Laos they rest. Sharon Walsh, October 2004
For Our Dad From His Children

Richard A. Walsh III 1926-1969 Colonel USAF Pilot: A1-E aircraft 602nd Special Ops Squadron Nhakon Phenom Thailand 1968-69 Missing in Action Awarded Silver Star for heroism Awarded Distinguished Flying Crosses Awarded Order of the Purple Heart United States Naval Academy 1951 University of Colorado MBA 1967 North American Air Defense Command & Command Pilot Survived by brother, sisters, wife, five children. Rest In Peace: From all who remember and love you. RICHARD B. WALSH, 10/31/01
From Wall of Faces:
I hope you made it to heaven. And I love you very much. This is your granddaughter, Tara Christina. I have been thinking about you a lot lately and I wish I could have met you. I heard the stories about the brave things you did but I cried when I heard about you being shot down.

My dad, Christopher R. Walsh showed me your pictures in his photo album. Ones of you in uniform receiving medals from your commanding officers. He showed photos of you playing in the yard on Lincoln Avenue in St. Paul, Minnesota. I live in Florida now kind of like when you were stationed at Ft. Walton Beach. My dad loved that summer playing in the pool and on the Beach at the Ocean Lodge Hotel. Maybe, my dad will post some photos of you and me.

We want to thank all the wonderful people who posted remembrances here. It made my daddy cry. My dad tells me Bulgy Bear stories like you told him a long time ago.

I learned some patriotic songs here in the 3rd grade, like Grand Old Flag, the Star Spangled Banner, and "Off we go into the wild blue yonder . . ."

I will tell my classmates and do a report someday about you, a Great American Hero.

Love Tara. TARA AND CHRIS, CRWALSH11@GMAIL.COM, 1/13/16
Young Sgt at the time. Talked with LTC Walsh on many occassions. Usually about operations and at times about making the Air Force a career. Remember his mission, his loss and the hope we would rescue him. I know his wife never gave up hope that he would come home. JOHN MOMANEY, CMSGT USAF, RET, CMSGT92MOMANEY@AOL.COM, 5/27/13
Loss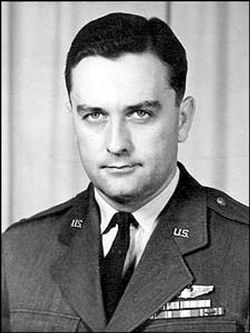 From Virtual Wall:
On 14 February 1969 LtCol Stanley S. Clark was the section leader for a flight of two F-4D PHANTOM aircraft from the 497th Tactical Fighter Squadron based at Ubon RTAFB, Thailand. The section was tasked with a night strike mission in southern Laos near the border of Vietnam.

Clark's plane was hit by anti-aircraft fire while over the target. He climbed to about 12,000 feet and ordered his backseater to eject. As the backseater ejected the plane began a rapid descent, passing through a cloud layer at about 10,000 feet before breaking into the clear below the cloud layer. The aircraft was observed to impact in a river valley near the town of Ban Bac in Saravane Province. Although radio contact was established with the copilot, there was no contact with LtCol Clark nor was a second parachute observed.

A Search and Rescue force of four SANDY A-1 aircraft and two helicopters launched from Nakon Phanom RTAFB at 0500 15 February. On arrival, LtCol Richard A. Walsh of the 602nd Special Operations Squadron, 8th TFW, became on-scene commander.

LtCol Walsh and his wingman began a search pattern over the area while the second section of A-1s and the helos held clear. Walsh established radio contact with the downed pilot, called in the helicopters to pick him up, and reported receiving ground fire. Other aircrew observed muzzle flashes and 37mm anti-aircraft shell bursts fire behind Walsh's aircraft and along his flight path. No further transmissions were received from Walsh, no parachute was seen, and no emergency radio beeper signals were heard.

After the downed pilot was recovered he stated that he heard an anti-aircraft site open fire as Walsh's aircraft approached and shortly thereafter heard the the A-1 explode on impact. He estimated that less than 15 seconds elapsed between the AAA fire and aircraft impact. Dense jungle foliage prevented him from actually observing the incident.

Further SAR efforts were not successful in locating either LtCol Clark or LtCol Walsh and both men were initially were classed as Missing in Action. After considering all available evidence, an Air Force board concluded that LtCol Clark had died in the incident. LtCol Walsh was continued in MIA status until 04 October 1979, when a Presumptive Finding of Death was approved by the Secretary of the Air Force.

As of 05 March 2008 the remains of Stanley Clark and Richard Walsh have not been repatriated.
Family
Richard was survived by his wife, then 34, and five children ages 6 to 12. That link also contains an extensive article about his wife's attempts to get answers to his fate.
Silver Star
Via his daughter, Maura Walsh, on January 13, 2018:
Lieutenant Colonel Richard A. Walsh III distinguished himself by gallantry in connection with military operations against an opposing armed force as an A-1 Skyraider pilot in Southeast Asian on 15 February 1969. On that date, Colonel Walsh led a flight of two A-1 Skyraiders on a rescue effort for the pilot of an F-4 Phantom who was down near a major hostile supply route. With complete disregard for his own personal safety, Colonel Walsh flew his slow, propeller-driven Skyraider into the face of intense antiaircraft fire to locate the downed airman. When he discovered that the man was dangerously close to the road, he knew that time was now critical. Unhesitatingly he continued to expose himself at low altitude in order to more closely pinpoint the survivor and locate the gun positions which would threaten the rescue helicopter. By his gallantry and devotion to duty, Colonel Walsh has reflected great credit upon himself and the United States Air Force.
Richard is one of 48 members of the Class of 1951 on Virtual Memorial Hall.