JOHN M. STUMP, LCDR, USN
From USNA Virtual Memorial Hall
Birthdate & Date of Loss
| | |
| --- | --- |
| Date of birth: | October 11, 1927 |
| Date of death: | November 6, 1970 |
| Age: | 43 |
Lucky Bag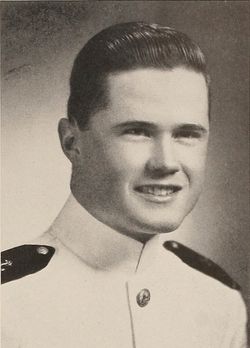 From the 1951 Lucky Bag:
John Morgan Stump

Norfolk, Virginia

Born in Washington, D. C. . . . lived in Washington and New Hampshire . . . hails from Clarksburg, West Virginia. Numerous schools, U.S.N.R., and West Virginia University have put up with him . . . he prides his membership in the West Virginia U's Chapter of Sigma Chi . . . fulfilled the first step of his life's ambition by entering Navy Tech . . . during the winter afternoons he could usually be found at the swimming pool working out ... in spring and fall sailing took up much of his recrea- tional time . . . other interests are visits to the "gedunk" stand, and pretty girls . . . seldom dates the same girl twice in succession, but has a drag for almost all the social events . . . Lord willing, he will remain in naval aviation the limit.
He was also a member of the Reception Committee.
Loss
From Find A Grave:
LCDR John Morgan Stump AKA John Stump Sr., the admiral's son, was a Navy pilot who died in a plane crash in 1970.

His mother was Myra Boyd (Morgan) Stump b. July 19, 1899 West Springfield, NH d. Nov 14, 1969 Keene, NH
He was flying a T2V-1 Seastar; the other person aboard was also lost. The crash occurred near Big Sur, CA, on November 6, 1970. He is buried in Arlington National Cemetery.
Family
John's father, Admiral Felix Stump, had a distinguished career that included two Navy Crosses and command of the Pacific Fleet. A ship was later named in Felix's honor; John's grandson, John Stump III, served aboard USS Stump (DD 978).
Related Articles
William Charles '51 was also a member of the Reception Committee.