WILLIAM O. CHARLES, LT, USN
From USNA Virtual Memorial Hall
Birthdate & Date of Loss
| | |
| --- | --- |
| Date of birth: | December 8, 1928 |
| Date of death: | March 27, 1957 |
| Age: | 28 |
Lucky Bag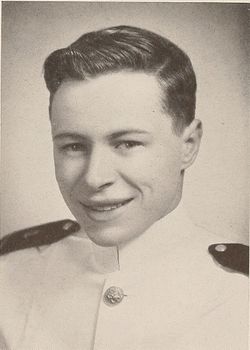 From the 1951 Lucky Bag:
William Olwyn Charles

Pueblo, Colorado

From the mountains to the Severn shore . . . entered the Brigade as a scared, lost lad . . . four years of near bilging . . . the first man out of the gate on liberty . . . tall stories and a smile, his specialty. "Who studied this lesson, I wrote letters. Isn't it sack time yet?" Bill's ideal female is a nice girl and a party girl combined . . . he's still looking . . . horses and hunting fill his athletic desire . . . never a word until after black coffee ... so easy-going that neither academics nor women get him down . . . youngster cruise confirmed it. Naval Aviation is the only thing that will keep him away from Colorado . . . leaves the Brigade lost and scared.
He was also a member of the Reception Committee and the 6th Company staff (winter).
Loss
Bill was lost when his TV-2 training plane crashed near Belton, Missouri, on March 27, 1957. He was the instructor pilot; the student was also killed.
Bill is buried in Colorado. His wife and what appears to be one son survived him. She remarried and later passed away in 2015.
Related Articles
John Stump '51 was also a member of the Reception Committee.