RICHARD E. DEMPSEY, JR., LT, USN
From USNA Virtual Memorial Hall
Lucky Bag
From the 1982 Lucky Bag:
Loss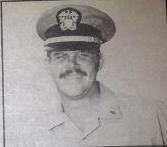 From Desert News on January 29, 1989:
A Navy F-14 Tomcat crashed Friday in the Arizona desert, killing a military pilot and a flight officer on a training mission from San Diego to New Orleans, officials said.

The $35 million fighter jet went down at 3 p.m. about 6 miles west of Arizona City, Navy Lt. Cmdr. Bob Pritchard said. Both the pilot, Lt. Thomas L. Gibson, 27, of Atlanta and the jet's radar intercept officer, Lt. Richard E. Dempsey Jr., 29, of Clearwater, Fla., were killed in the crash, Pritchard said.
There is a single comment on the article above: "My Daddy…", posted by "ashleydempsey27 - Shelton, WA". He was survived by his wife and two children.
He was a member of Fighter Squadron (VF) 114. Richard is buried in California.
Richard is one of 6 members of the Class of 1982 on Virtual Memorial Hall.