RICHARD H. PETERSEN, LTJG, USN
From USNA Virtual Memorial Hall
Birthdate & Date of Loss
| | |
| --- | --- |
| Date of birth: | July 8, 1918 |
| Date of death: | March 26, 1944 |
| Age: | 25 |
Lucky Bag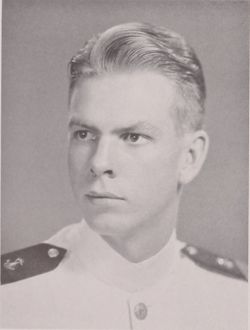 From the 1943 Lucky Bag:
RICHARD HERMAL PETERSEN

Ogden, Utah

"Petsie" is his nickname. It is rumored that he was branded with this name by the girls of his home town. Girls are often wrong; and in this case the nickname is not at all fitting, for Pete is a 6' 2" package of" Swedish manhood. One of Pete's favorite subjects is educational administration. He has often been overheard discussing the educational system of the Naval Academy. When Pete wasn't rolling the: boys in the aisles with his wit he was usually found playing basketball, fencing, arguing, thinking about his girl back home, or playing his fiddle. It is safe to say that Petsie will be remembered.
The Class of 1943 was graduated in June 1942 due to World War II. The entirety of 2nd class (junior) year was removed from the curriculum.
Loss
From The Salt Lake Tribune on January 14, 1946:
Lt (j.g.) Richard H. Petersen, 25, son of Chief of Police and Mrs. O. H. Petersen, 2553 Harrison Blvd., has been declared killed in action March 27, 1944, while serving aboard the submarine USS Tullibee, by the navy department. He previously had been reported missing. Third in command aboard the submarine, Lt. Petersen was first reported missing May 15, 1944. Since termination of the war, the only survivor of the submarine has been liberated from the Japanese, and, according to his account, the submarine was sunk in open water. Lt. Petersen was born July 8, 1919, in Spanish Fork and later moved to Ogden with his parents. He was graduated from Ogden high school and from Weber junior college, where he had been attending on a music scholarship. He then entered the U. S Naval Academy, Annapolis, and upon graduation entered the submarine service. Surviving are his parents and one sister, Dorothy Peterson, all of Ogden, and four brothers, Kendall O., Woodrow P., Max W., and Drew M Petersen.
USS Tullibee (SS 284) was lost on March 27, 1944, in what may have been a circular run of her own torpedo. There was only a single survivor.
Memorial Hall Error
His last name appears as "Petersen" in all records, but he is listed with his classmates in Memorial Hall as "Peterson." (His name appears correctly on the killed in action scroll in Memorial Hall.)