RICHARD L. BURCHAM, CAPT, USA
From USNA Virtual Memorial Hall
Richard Lusk Burcham was admitted to the Naval Academy from Texas on July 8, 1938 at age 17 years 7 months.
He resigned on February 18, 1939 because he was "deficient in studies, first term's work. Recommended to be dropped. Permitted to resign."
Loss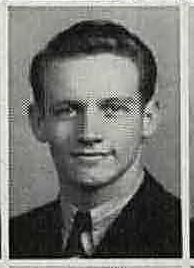 From the San Bernardino County Sun on October 8, 1946:
Army Planes Collide In Flight; Two Killed
WILLIAMS FIELD, Ariz., Oct. 7 (TP)

Two Army pilots were killed here today when their planes locked wings in mid-air and crashed, the Army announced tonight. The victims were First Lt. Henry P. Mora van, 30, of Binghampton, N. Y., and First Lt Richard L. Burcham, 25, Portland, Ore.
He is buried in Oregon.
Memorial Hall Error
Richard is listed as a member of the US Air Force in Memorial Hall; however, this organization did not exist until after his death. Should be US Army.
Only report found has his rank as 1LT. Register of Alumni and Memorial Hall have him as a Captain; posthumous promotion?
Richard is one of 82 members of the Class of 1942 on Virtual Memorial Hall.