RICHARD W. ROBINSON, LCDR, USN
From USNA Virtual Memorial Hall
Birthdate & Date of Loss
| | |
| --- | --- |
| Date of birth: | April 14, 1915 |
| Date of death: | April 8, 1945 |
| Age: | 29 |
Lucky Bag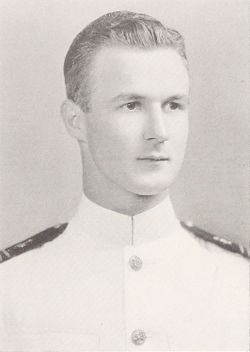 From the 1939 Lucky Bag:
RICHARD WARREN ROBINSON

ANDERSON, SOUTH CAROLINA

Dick, Robby

By act of Congress? Ah, but no! Robbie, the favorite son of South Carolina, is a gentleman of the old school—just ask him! He has acquired a reputation as a snake, a great roommate (with a penetrating sense ot humor) and a "good man to have along," be it a rough-house, a game of tennis, or a bull session. Although he has distributed his talents over a wide field, somewhat too wide to crash the first sections, a Southerner's love tor a good fight has carried him over occasional battles with the Powers that be. Robbie's facility for making friends, his will to win, and his knack of doing everything well will make him a hard man to keep down and an asset to the Service. Skoal!

Battalion Soccer 4; 1 P.O.
Loss
From Clemson Alumni:
Richard Warren Robinson Class: 1938 Major: General Science Activities while at Clemson: Attended only one semester, in the fall 1934. He did not re-enroll for spring semester 1935 or later. Home Town: Anderson, South Carolina Unit: Commander, Air Group 25, Serving on the USS Chenango (CVE 28) Rank: Lieutenant Commander

Date of Death: April 8, 1945; Lieutenant Commander Robinson's body was recovered and returned for burial in Section N, Site 1104 of the National Memorial Cemetery of the Pacific, Honolulu, Hawaii.

Details of Death: Killed in Action. Lt Cmdr Robison drowned when he was forced to crash land in the open sea off Ishigaki Shima in the Ryuku Islands after his aircraft was severely damaged by anti-aircraft fire during an attack on a Japanese airfield.

Spouse: Ruth Turnbull

Awards: Purple Heart, Air Medal

Other: Birth April 15, 1915. Parent G. L. Robinson. Anderson, SC. Attended Anderson Boys High School. Attended Anderson College Sept 1932 to May 1933. Enrolled Clemson Sept 1934. Did not re-enroll for spring semester 1935 or later. According to a newspaper report he graduated from the Naval Academy in 1939.
From Find A Grave:
Lt. Comdr. Richard Warren Robinson USN, son of Mr & Mrs G. L. Robinson, formerly of Anderson but, now of Columbia was drowned while in the service of his country aboard the aircraft carrier in the Pacific according to a telegram recieved from the Navy Department.

He was a 1939 graduate of Annapolis and commanding officer of a squadron of fighter planes at the time of his death.

Commander Robinson was serving aboard a destroyer at Pearl Harbor at the time of the Japanese attack Dec 7, 1941. He then returned to the states and took flight training at Pensacola, Florida.

After flight training he served as commanding officer for one year on a air base on the island of Samoa. Returning to the west coast he was in-charge of training Naval Air Suadrons. Following that tour. He returned to the Pacific area of operation with one of his squadrons.

While stationed in Samoa. He married Ruth Moncrief Turnbull, daughter of A. C. Turnbull, governor of Samoa. On February 3, 1944. His wife is now making her home in Columbia with the Robinson family.

Commander Robinson has a brother in service. Lt LeRoy Walter Robinson now in the Pacific. Another brother , Woodrow Robinson, who was on duty as a Staff Sergeant with the air corps at Wheeler Field, Hawaii recieved a medical discharge after 30 months service.

Besides his parents, wife and brothers. He is survived by two other brothers, F T. Robinson of Chaplin and G. L. Robinson Jr of Wilmington, N. C. and three sisters, Nrs J. D. Dellaney of Columbia, Mrs Joe B. Farmer of Anderson and Mrs W. A. Campbell of Moultrie, Ga.
He was flying a F6F-5 Hellcat with Fighting Squadron (VF) 25.
His wife was listed as next of kin.