DONALD C. BREWINGTON, LT, USN
From USNA Virtual Memorial Hall
Birthdate & Date of Loss
| | |
| --- | --- |
| Date of birth: | July 3, 1916 |
| Date of death: | August 22, 1942 |
| Age: | 26 |
Lucky Bag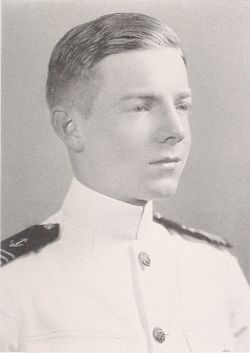 From the 1939 Lucky Bag:
DONALD CECIL BREWINGTON

MUNCIE, INDIANA

Don, Brew

Fervently even though tritely, he means it when he says "Indiana — God's country," as his contribution to discussions on home states. Athletically inclined, spring invariably starts Don to vaulting. The rest of the year it's some form of batt athletics. Always on the hall academically, he's taken the departments seriously. He has a flair for well-filled address books, and consequently a reputation for above-average drags. An even temper makes him the balance wheel of his room, even in heated debates. Truly, he has frequently been the oil required to smooth a troubled sea of argument. Consistently he avoids snap judgments and hasty, unsound generalizations. That even temper and conscientiousness are going to make for steady, even sailing of his well laid-out course.

Track 4, 2, l; Football 2, 1; Trident Society 2, 1: 2 Stripes.
Loss
Donald was lost when USS Buck (DD 420) collided with a ship it was escorting on August 22, 1942 off the coast of Nova Scotia.
His parents were listed as next of kin.
He has a memory marker in Indiana.