WILLIAM P. HODNETT, JR., LCDR, USN
From USNA Virtual Memorial Hall
Birthdate & Date of Loss
| | |
| --- | --- |
| Date of birth: | November 27, 1918 |
| Date of death: | December 3, 1944 |
| Age: | 26 |
Lucky Bag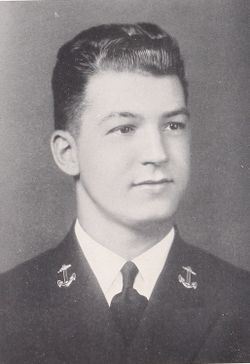 From the 1940 Lucky Bag:
WILLIAM PHILIP HODNETT, JR.

Martinsville, Virginia

A true Virginian, Bill's neatness made him most desirable as a roommate. His happiest moments were spent in participating in arguments, regardless of the subject. Athletic activities included wrestling, football, and baseball; and in sports, as in all things, he was ever a good worker. Bill's troubles with the Academic as well as the Executive Department were several: his main weakness being — "Parlez-vous francais?" Little difficulty was experienced with the fairer sex, except an occasional encounter with those above the Mason-Dixon line. Here's wishing you the best, Bill, you will make your own breaks.
Loss
Bill was lost in USS Cooper (DD 695) during the Battle of Ormoc Bay on December 3, 1944. He was Executive Officer.
His wife was listed as next of kin.
Career
From History of Class of 1940:
Bill spent his brief naval career in the Pacific. In the early part of World War II, he saw action in the vicinity of the Aleutian Islands, before returning to the United States for training prior to his being ordered as Executive Officer of a new destroyer, USS COOPER, launched at Kearney, New Jersey on 9 February, 1944. COOPER joined the fleet in the Pacific, and was also to have a short career. Around midnight on the night of 2-3 December, 1944, COOPER and two other destroyers were patrolling Ormoc Bay on the west side of Leyte Island in the Philippines. Japanese forces were trying to reinforce their Leyte garrison through the port of Ormoc. First, the destroyers were attacked by enemy aircraft, but the planes were beaten off by AA fire; COOPER shot down two dive bombers. At 0002, COOPER made her first surface contact and opened fire at 12,000 yards on an enemy destroyer close inshore, COOPER closing in fast and raking the Japanese ship from stern to stern for eight minutes until it caught fire and began to sink. Next, COOPER detected another one or two small transport ships to the south, again closing and opening fire. At least one of these ships, with troops on board, was sunk. At 1217, either a mine or a torpedo struck COOPER amidships; she listed 45 degrees, broke in two and sank within seconds, with the loss of half on board, ten officers and 161 crew members -- LCDR Hodnett went down with the ship. The survivors, who were rescued after 15 hours in the water, praised their Executive Officer for his stern insistence on wearing life jackets at battle stations; Bill lost his own life, but his orders saved the lives of many others. For this and other vital actions by Bill during the battle, the Secretary of the Navy posthumously awarded him the Bronze Star Medal.

Bill met and married Ruth Hanson early in the war; she was a nurse at the Bremerton Naval Hospital. They had one son, William Philip Hodnett III. Ruth now lives in Martinsville, Virginia.
He has a memory marker in Virginia; his now-deceased wife is buried there.