ROBERT A. GONANO, JR., 1LT, USAF
From USNA Virtual Memorial Hall
Birthdate & Date of Loss
| | |
| --- | --- |
| Date of birth: | August 23, 1930 |
| Date of death: | August 17, 1955 |
| Age: | 24 |
Lucky Bag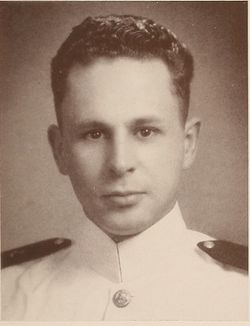 From the 1953 Lucky Bag:
ROBERT ALBERT GONANO, JR.

Bluefield, West Virginia

Coming to Navy as an honor graduate from Greenbriar Military Academy, Bob spent plebe year in constant fear that the first class would discover his past record as a Wheel. "Guano" comes from nature's air-conditioned city, Bluefield, West Virginia; his occasional telephone calls from there never failed to produce an anecdote about his little brother Eddie. Most of his academic time was spent complaining about "the system." His main enjoyments up until second class year were the happy days spent in the instruction pool . . . Up! . . . Out! . . . and together! The intense energy Bob put into any undertaking was unbelievable but he proved himself a true and faithful friend to all.
Loss
Robert was lost when his P33 jet trainer crashed near Victoria, Texas, on August 17, 1955. He was survived by his wife and son; he is buried in West Virginia. The other pilot was also lost.