ROBERT E. TUTTLE, 2LT, USMC
From USNA Virtual Memorial Hall
Date of birth: July 21, 1945
Date of death: May 8, 1968
Age: 22
Lucky Bag
From the 1967 Lucky Bag:
Loss
From the September-October 1968 issue of Shipmate:
2nd Lt Robert E. Tuttle, USMC, died 8 May in a mine explosion while on patrol near Quang Nam, Vietnam. Services were held in the Naval Aviation Memorial Chapel, Pensacola, Fla., with interment in Barrancas National Cemetery with full military honors.

Lt. Tuttle, who was born in Maryland, graduated from the Naval Academy in 1967. A graduate of Escombia High School in Pensacola, he had been selected as the first Senior Citizen for his high grade average and prowess as an athlete in 1962-63. As a midshipman he was heavyweight boxing champion.

Following graduation, Lt. Tuttle completed Marine Corps Basic School at Quantico, Va., then was assigned to Vietnam. He had arrived there two months prior to his death and had been serving as commander of the 1st Platoon, M Company, 3rd Battalion, 27th Marine Division.

He is survived by his parents, RAdm. Magruder H. Tuttle, USN (Ret.), class of 1932, and Mrs. Tuttle of 55 Star Lake Drive, Pensacola, Fl. 32507; a brother, Harry C. Tuttle, who recently returned from a tour of duty with the Army 1st Air Cavalry in Vietnam and is now a helicopter instructor at Fort Rucker, Ala.; two sisters, Courtney Ann and Jane E. Tuttle; and a grandmother, Mrs. H. W. Courtney of Ennis, Tex.
Remembrances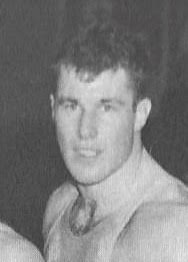 From the Class of 1967's 50th Reunion Yearbook, courtesy of William Belden '67:
Bob came to the Naval Academy from a family steeped in Navy history and traditions. His father, Admiral Tuttle ('31), was the 1931 Naval Academy football team captain. Bob continued with the sports tradition until a knee injury ended his football career. Refusing to let the football injury stop his love of sports, Bob continued his athletic pursuits until he won brigade wide recognition as the 1967 Brigade Heavyweight Boxing Champion. The undefeated former Heavyweight Champion of the world, Rocky Marciano refereed that fight. Marciano died in an airplane crash less than a year later. It was an honor for Bob to have won an important fight refereed by such an important champion.

Bob chose the Marine Corps upon graduation from the Naval Academy in June 1967. He was serving as a platoon commander, Mike Company, 3rd Battalion, 27th Marine Regiment, 1st Marine Division, in Vietnam at the time of his death on May 5, 1968.

The Bob Tuttle Scholarship was established at Escambia High School, Escambia County Public Schools, Pensacola, Florida. Rear Admiral and Mrs. Magruder H. Tuttle, established the scholarship in memory of their son, 2nd Lt. Bob Tuttle, USMC, a 1963 graduate of Escambia High School.

Bob is remembered with love and affection by all of his classmates and friends. "The greatest tragedy is what might have been." Anonymous

"Greater love hath no man than to lay down his life...." John 15:13
From Find A Grave:
(The following provided by Jim Slusser, a lifelong friend from Buies Creek, NC...)

The Best We Had To Offer

His real home was Pensacola, FL, where his father, RADM Magruder Tuttle was Chief of Air Training Command in the 60's. Bob graduated from Pensacola's Escambia HS in 1963, and the U.S. Naval Acadamey in 1967, where he was the heavy weight boxing champion his senior year. He was truly the best our generation had to offer, and our country is the worse off for his loss. Bob will always be remembered by his classmates, and may his memory live forever. Survived by his parents Magruder H & Dorothy C Tuttle of Pensacola, FL and his brother, Harry C Tuttle of Enterprise, AL.
From Wall of Faces:
Lt Tuttle was my platoon leader May 08, 1968 - A good Marine SGT. EDWARD BENAVIDEZ, 7/30/14
Bob was the ideal character for a movie. Big atheletic handsome guy always smiling. Excelled at everything. And, a GOOD FRIEND. Naval Academy and joins the Marines. That was Bob. We Honor you at every reunion. Semper Fi JIM GRIFFIN, MRJIMGRIFFIN@AOL.COM, 8/10/12
2LT Tuttle was my Plt Leader in 1968 during Tet we had already lost one Plt Leader and Plt Sgt. when Lt Tuttle arrived we were at the Tu Cau Bridge when he reported and that first night he went out on a night ambush with me and my Sqd. He was a good man and became well respected by his troops. I was wounded about a month after he came to Mike 3/27. Shortly after that he transfered to another Plt. and was KIA in early May 1968. Thank you Sir for youe service you will not be forgoten CPL. ROY F. PARR, RFPCROWLEY@YAHOO.COM, 4/1/06
In remembrance of an honorable and memorable classmate of The Naval Academy, class of '67. "Tut" loved the Marine Corps and valiantly gave the ultimate sacrifice for his country. It was our privilege to have known him.

Dale and Theta Fink DALE A. FINK, DFINK@GATEWAY.NET, 3/13/00
From Pensacola News Journal on November 10, 2015:
…

The program brought tears to the eyes of retired Army pilot Harry C.Tuttle who lost his 22-year-old brother, U.S. Marines 2nd Lt. Robert E. Tuttle, on May 8, 1968, in Vietnam.

"He was a really courageous individual," said Tuttle of his younger brother, a 1963 Escambia High grad and 1967 U.S. Naval Academy grad. "I have tears in my eyes, but I am so proud of my brother. (When I pass) I will be laid to rest on top of my brother and next to my mom and dad."

Harry C. Tuttle served 12 years in the Army and is the son of the late Adm. Magruder Hill Tuttle and his wife, Dorothy. His sister, the late Courtney Ann Tuttle, also was a nurse in the military.

"I just wish there were more relatives here," said Tuttle, who was at the program with his daughter, Christine Tuttle.

Christine Tuttle, 35, also never knew her uncle but said she attended the program to honor him.

…
Related Articles
Robert Graff '67 and Robert Hughes '67 were also in 25th Company.
Robert is one of 34 members of the Class of 1967 on Virtual Memorial Hall.