ROBERT G. HUGHES, LT, USN
From USNA Virtual Memorial Hall
Lucky Bag
From the 1967 Lucky Bag:
Loss
From the April 1979 issue of Shipmate:
LCdr. Robert Garfield Hughes USN died in an aircraft accident on 30 January 1979 in the collision of two Navy jets off the coast of Southern California. A memorial service was held at the Airmen's Memorial Chapel, Miramar, on 3 February.

The son of RAdm. (USN Ret.) and Mrs. William C. Hughes, he was appointed to the Naval Academy with an at large appointment and graduated with the Class of 1967. Flight training followed and he had served in Kitty Hawk and Franklin D. Roosevelt, including combat service in Vietnam. Among his decorations were the Silver Star Medal and Republic of Vietnam Gallantry Cross. He was attached to VF-126 at Miramar Naval Air Station at the time of the fatal accident. He had served as an instructor with FITRON 121, and he was serving with FITRON 121 and was designated air combat maneuvering instructor as well as serving as assistant maintenance officer and administrative officer.

In addition to his parents, he is survived by his widow, Sherie, 15019 Amso St., Poway CA 92064; three children and four brothers including Cdr. William C. Hughes Jr. USN, '63.
Remembrances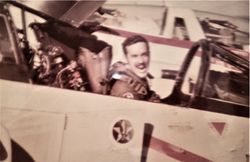 From the Class of 1967's 50th Reunion Yearbook, courtesy of William Belden '67:
Bob had large footprints to fill at Navy, as his father was a Rear Admiral and his two older brothers preceded him at USNA. As a student and a varsity squash player, Bob excelled.

On graduation Bob joined the Naval Air community and began his training in Pensacola. He received his wings and flew jets, joining an F4 squadron. He flew two tours in Viet Nam with VF-114 embarked on USS Kitty Hawk (CVA-63). During his second tour he shot down a MIG while flying over Viet Nam. His last tour was with VF-51 embarked in USS Roosevelt (CVA- 42). Bob was killed in a service related mid-air collision on Jan 31, 1979 while flying out of NAS Miramar in San Diego. Bob was awarded the Silver Star medal for service to his country.

Bob married Sherie O'Doherty on March 16,1968 and was the father of three beautiful children, Robyn, Chad and Shawn. Robyn lives in Australia, Chad and Shawn live in Omaha. He was a wonderful husband and father.

Bob enjoyed life as can be evidenced by some of the unusual situations he found himself in while at Navy. He "lost" his father's car in Philadelphia after the Navy-Notre Dame football game before boarding a bus back to USNA and giving the keys to the OOD.

The truly memorable event of our graduation week was Sherie forming up with our company for the Color Parade in Dress Blue uniform. The battalion commander, Matt "The Hat" Breen, discovered her and removed her from formation. Bob missed the parade, spent his last night at USNA on restriction and he and Sherie missed the final dance. Bob had a big spirit that we all loved, and talent that was limitless. He was a wonderful friend, husband and shipmate.
Other
Bob is credited with an air-to-air victory over a MiG-21 on May 6, 1972, over Vietnam. He was flying a F-4J Phantom II with Fighter Squadron (VF) 114 from USS Kitty Hawk (CVA 63).
Related Articles
Robert Graff '67 and Robert Tuttle '67 were also in 25th Company.
Barton Creed '67 was also on the 5th Battalion Staff in the Fall.
Robert is one of 34 members of the Class of 1967 on Virtual Memorial Hall.