BARTON S. CREED, LCDR, USN
From USNA Virtual Memorial Hall
Lucky Bag
From the 1967 Lucky Bag:
Loss
From Find A Grave:
On March 13, 1971, Lieutenant Creed was leading a flight of A-7E aircraft on a strike mission in Tchepone District of southern Savannakhet Province, Laos, along road segment 99B. Pulling out of a strafing run on a truck his aircraft was hit in the mid-section by hostile ground fire and Lieutenant Creed ejected. A forward air controller saw a parachute deploy and soon established radio contact with Lieutenant Creed on the ground from whom he learned Creed had a broken arm, broken leg and was losing consciousness. Creed last reported that "they are here" and his radio beeper went silent twenty seconds later. The FAC, receiving small arms fire from the ground, heard no further transmission from Lieutenant Creed. Four SAR attempts were unsuccessful and SAR personnel observed someone had moved Lieutenant Creed's parachute to a new location. U.S. forces were aware this was a common practice by hostile forces attempting to lure search and rescue forces into a trap.
Remembrances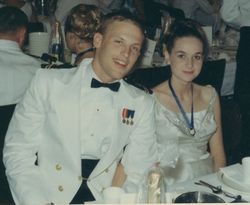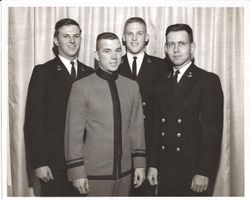 From an email exchange on December 22, 2018:
My favorite characterization [of Bart] came from James Webb ('68) when I met him several years ago on a trip to the Senate.

I told him I was Bart's remarried widow. Smiling, he asked, "You know Bart was a wild man, don't you?"

Barts unbridled joy at risk taking was part of what drew people, and me, to him. Sometimes.

I feel privileged to have a known the tender side of him, the part he carefully hid behind his jocular exterior...most of the time. Susan Creed Percy
From an email on January 11, 2019:
I don't have memories of my dad as he deployed when I was three months old, but I know many stories about him and I am grateful, especially for the Class of '67, for sharing those with me. I hear my dad liked to laugh and that he was the life of the party. I know he had a nickname for his car but I don't know what it was... I have heard stories about epic races on Route 50 to make it back for taps. I think he would be happy to know his grandson David has his height, his sense of humor, and his blue eyes. His granddaughter Mary is a Plebe in the Class of '22 and he'd be very proud of her. There are things that have changed since he was at USNA, but there are many things still the same, it's still FOUR YEARS TOGETHER BY THE BAY. And my youngest, his granddaughter Annie, is his spitting image... those Creed genes run strong. Page Creed O'Flaherty, USNA '92
From the Class of 1967's 50th Reunion Yearbook, courtesy of William Belden '67:
Bart, as some described him, was "a wild man" with a great heart. A fearless Teddy Bear. Parts of him were untamed but he was thoughtful and private about his deeper motivations and feelings. I got to know and love "both Barts". His children and I are grateful for his USNA friends who have continued to hold us close. Losing a parent often means losing that parent's history and never having a sense of who he or she was. Friends and classmates have shared many "Bart stories" with Scott and Page, filling in images of him they otherwise could never have known. Still, Page reminds us, "I don't know what his laughter sounded like".

Attempts by the Search and Recovery teams to find and repatriate Bart from the jungle of Laos have born some information, but as yet, no final resolution. His parents passed away before he could be found; we still hope his children and grandchildren will see the day when he will be brought home again.
From Don Moore's War Tales; possibly dated April 8, 2011:
The cheap, cerise-colored, aluminum bracelet on her right arm was battered and worn. Every day for the past 25 years, Vera Creed of Port Charlotte, Fla. has had it on.

"LCDR Barton S. Creed U.S. Navy 3/13/71 LAOS," the inscription on the Prisoner of War bracelet reads. It's a reminder of her son who was shot down over Laos during the height of the Vietnam War.

"I don't know why I still wear it," she said. "I guess it's sentiment. I'll never take it off. I know he's not alive. I have not thought of such a thing, but the bracelet is just part of him."

Vera Creed is one of the 2,154 families in the United States who still has a son listed officially as Missing In Action from the Asian war, according to the National League Of Families Of American Prisoners and Missing In Southeast Asia. The league is a pressure group that champions the POW/MIA cause.

Currently it supports the Foreign Relations Authorization Act restricting funds for normalizing relations with Vietnam until the president certifies Vietnam is "fully cooperating" with the United Sates on POW/MIA matters. This proposal is expected to receive a final vote in the House April 24.

In related action, Larry Greer, a spokesman for the Department of Defense POW/MIA Office, said recently the government's updated missing persons law, just passed by Congress, will make it easier for MIA families to provide input to the necessary federal review board that determines the status of those missing. The revised law also provides that someone listed as missing in action be represented by an attorney, which is new.

"I think our government really wants to find out about our MIAs," Creed said. "Recently, the Vietnamese have been very helpful because this country has done a lot of things for them. They want all the aid they can get from us."

Despite the battered, old bracelet she wears and despite her son's medals and pictures scattered around her apartment, Creed admits some of the small details of her son's downing a quarter century ago aren't as easy to recall as they once were.

"He had flown over 100 missions when he was shot down, and he had only been in Vietnam from November til March," she said. "It was a very bad time. We had a lot of losses.

"Just the day before he was lost, Barton told someone, 'It's getting pretty bad out there. Somebody's going to get it,'" his mother recalled. "He was the one to get it."

The young Annapolis graduate was flying his A-7 single-seat Navy fighter-bomber over the Ho Chi Minh Trail in Laos. The enemy was moving large volumes of supplies down the trail at night to support its guerrilla forces in Vietnam. His group, Attack Squadron 113 flying off the carrier U.S.S. Ranger, hit them with everything it had. In the shootout, his plane was struck by ground fire, and he was forced to eject.

"He arrived safely on the ground," his mother said. "For two or three hours the search and rescue team talked to him. Barton told them he had a broken leg and a broken arm because of the ejection."

Four attempts were made that night to rescue him. The last time, one member of the rescue team almost reached the ground when he was shot by enemy fire. The helicopter had to evacuate the area immediately and take the injured soldier back to base for medical treatment.

"His last words were, 'Pick me up now, pick me up now. They're here,'" she said. "They left Barton on the ground to deal with the enemy. They had to."

The search and rescue team flew off with its own injured man. When they returned the next day, looking for Creed, all they discovered was his parachute spread out on the ground.

"They were sure he was captured alive," Verna said. "For two years, we presumed he would come out of Laos alive. We were shocked when the list of prisoners was released, and his name wasn't on it."

In the intervening decades his two children, Scott and Page, who were 2 and 1 when their father was first reported missing, have grown up. Both graduated from the U.S. Naval Academy, too. Page is serving aboard the U.S.S. Nimitz, currently on deployment in the South China Sea. She is in charge of the carrier's maintenance section. Scott flies an F-18 fighter-bomber for NATO from a base at Aviana, Italy.

Their grandmother in Port Charlotte is proud of all of them. But she is especially proud of the part her son played in the war in Vietnam.

Stacked on an end table next to the couch in the living room of her apartment are several heavy, blue binders containing Barton's commendations. They include:

The Distinguished Flying Cross
Bronze Star
Air Medal
Purple Heart


"The President of the United States takes pleasure in presenting the Distinguished Flying Cross posthumously to Lt. Cmdr. Barton S. Creed," the award reads.

"On 13 March 1971, he participated in an aerial fight as a pilot of a jet aircraft in Attack Squadron 113 embarked from the U.S. Ranger during a combat operation against a hostile force in Southeast Asia," it notes. "Lt. Cmdr. Creed delivered all his bombs on the assigned target and then volunteered to make a strafing run on trucks discovered by the forward controller. In the face of the enemy fire, he pressed his attack and succeeded in scoring direct hits on one of the trucks before his aircraft was hit by ground fire and he was forced to eject.

"Lt. Cmdr. Creed's outstanding courage, airmanship and total devotion to duty reflects great credit upon himself," the commendation says. "It is in keeping with the highest traditions of the U.S. Navy."

Across the living room, on another end table in her apartment, is a gray, plastic model of an A-7 like the one her son flew a long time ago. Its left wing tip is broken off, and a landing gear and wheel lie in a metal ashtray on the table.

It could have been a plane he built for his son, Scott, before he was shot down in a no-win war in Southeast Asia that still haunts the memories of hundreds of MIA families throughout the country.
From Virtual Wall:
I was the Operations and Communications Yeoman for Attack Squadron 25, Attack Squadron 113's "sister A-7 squadron" on board the USS RANGER.

Lt. Creed used to come in to our Ready Room quite frequently as he was very friendly with many of the pilots in my squadron, especially the young ones like Lt. Tim Stone, Doug Bell, Joe Buck just to name a few. As a young PO3, it was fun watching these guys. They were like a bunch of kids together as they would joke around. While not as close to Lt. Creed as I was to the pilots in VA-25, I remember Lt. Creed being very friendly and unintimidating to us enlisted guys.

The day Lt. Creed's A-7E was shot down, I was on the sound powered phones in Ready 1. While I cannot remember everything that happened, I do remember that the air and ground war in the region where he went down was halted for quite some time in order to rescue the downed pilot. I remember hearing FAC in the Ready Room. I was told that everyone could hear FAC, even the enemy. I remember I was very proud to be an American that day, and a sailor, as the Armed Forces of our country virtually stopped everything they were doing in order to save a single airman. I remember the pilots in my squadron, the ones who knew Lt. Creed far better than I, were deeply saddened that he was not rescued. They loved this "Stinger Bee" like he was one of our own. I live in Maryland, not too far from the Vietnam Memorial in Washington D.C. Every time I visit the Memorial I look at Lt. Creed's name etched in the dark marble. I remember him and say a prayer for him, and all the soldiers and sailors who gave their lives for this great country we live in. Alan L. Kleier, alanccfl@aol.com, 12 Dec 2004
In this most tragic event I have personally been blessed by the outcome. My uncle married Barton's widow and she and her entire family have brought much joy to my family. I am very proud to say that I have Barton Creed's bracelet. I thank everybody for visiting this site to say your piece. May God bless Barton Creed and everyone for visiting this site. Richard J. Percy, rickjpercy@yahoo.com, 30 Mar 2005
I am writing this to pay my respects and to honor a brave man. Barton S. Creed was/is my uncle. My name is Bart Dunn and Susan Percy is my aunt. I will never get the opportunity to meet him, but the stories that I have heard about him give me an idea as to just how special he is. He made the ultimate sacrifice and his name carries much honor and respect. I know that the skies are a safer place with brave men like you who are on eternal patrol. You are missed and the world is a lesser place without you. Charles Barton Dunn, figfarret72173@yahoo.com, 25 Sep 2005
My name is Michael Pekas. I am a medical doctor and I served with Bart aboard the USS RANGER. I was a Navy Flight Surgeon assigned to CVW-2 and specifically assigned to the attack squadrons on board. I knew all of the aviators of VA-113 and -25 as very close friends, and their wives and families as well. They were not only my friends but I was their family physician. I was known by all as the "attack quack" and I loved the relationship that I had with the officers and men of both squadrons.

Life aboard ship was busy with 12-on and 12-off flight hours on top of all the other duties that the officers and men aboard were expected to do. We did have time to "hang out" aboard ship and the fun we had on shore is legendary. I happened to be airborne when it happened and I remember relaying medical advice to the onsite SAR commander to pass on to Bart to try to make him more comfortable.

I miss Bart, we still have his bracelet. It was a privilege and honor to have served with him. LCDR Michael W Pekas, MC, USN, 5814 S Shadow Wood Place, Sioux Falls, S D 57108, pekasm@sio.midco.net, 20 Jan 2007
From Wall of Faces:
Quit You Like Men

I think of those days when you were a cadet at PMA. The school's motto fits you Bart. Thank you for all you did, your service and ultimate sacrifice. BRUCE COWAN, 3/3/16
Bart and I are USNA 1967 classmates. I remember him well, especially l from our boxing classes. We were matched alphabetically to box each other. Bart was bigger and much stronger than I was ....he outweighed me by 30-40 lbs. I bobbed and weaved as long as I could to avoid his devastating punch and he finally put me down. He was such a gentleman about it....he could have hit me much harder. Because of this I have always felt a special closeness to Bart,and also because I did three combat tours on the ground and on the waterways in Vietnam. God bless you Bart, and your dear family. With sincere condolences and prayers,
Bill Applegate, USNA 67 7th Company BILL APPLEGATE, WGAPPLEGATE@GMAIL.COM, 5/25/15
The gratitude of Bart's family is deep toward all who join us in keeping his memory alive. We still miss him. His children, in particular, were so young that your wishes for them or your memories of Bart help cushion the sense of loss as others honor their dad and elevate his sacrifice .Thank you so much, especially today, 44 years later. SUSAN CREED PERCY, PERSUGRAM@AOL.COM, 3/13/15
Many years have passed since your last cat shot off Ranger. I remember, I was there. I thank you for your service to our Country, and your sacrifice you gave to keep our Country free. Salute, sir.... THOMAS PANGBURN (VAQ-134) / RANGER, ORHIKR@GMAIL.COM, 3/13/15
We had breakfast together on 3-13-71 then topside to the aircraft. Bart was VA113, I VA25 and both of us were in the first launch. I still remember him now years later and wish his wife Susan and family well. STU BUGG, CDR. USNR RET., STUBUGG@COMCAST.NET, 4/14/07
Bart Creed was my Firstie at the Naval Academy in the 26th Company during 1965-1966. He was responsible for mentoring me during my first year. I retired from the USMC as a Colonel in 1996. Bart Creed was responsible for my success! Thank you! COLONEL MICHAEL E. LOWE, USMC, (RET.), MIKEYLOWE@AOL.COM, 7/5/04
I was a friend of Bart and Susan's when he was in pilot training. For a while we were next-door neighbors and played many, many hands of bridge. I am grateful for this virtual wall for allowing me to find Susan again, as we had lost touch over the years.

Those were difficult years and I have great admiration for the sacrifice of all military families. Bart's children are a wonderful legacy. He would be so proud. SUSAN MCCLUSKEY ASHLEY, 3/24/03
I went to Peekskill from 1961 to 1963. I was young, spending 8th and 9th grade there. It was somewhat hard to get through the ups and downs. One upper classman was to become a friend and help me. That was Bart Creed. I'll always remember him and though of him like an older brother that I never had. I has lost my father at 10 so an older brother image was nice. It was just in the last year that I found the PMA web sight and sent them some info and my address, and they sent back a copy of the "Roll Call". In that it told of the loss of Bart while in harms way. I had always thought of him as going on getting married and having some kids. I even though maybe I would see him someday. It was with great regret that I read about his tragic loss. My heart go out to you. I'm also a pilot, although I never went into the military, I love to fly. I hope the family members have found some other comforts to help them along the way. I can't believe that it is 40 years ago that I knew Bart, and that war is still affecting us.

Last night I had a dream with Bart in it. I woke up and though of looking on the web for the Memorial wall. (I have been there several times, but didn't know about Bart at the time. The dream was not very specific but I do remember him helping me with something. Kind of ironic that a man gone for over 30 years is still doing thing that effect people all over, at least in someone's dreams) DOUGLAS H. MELTZER, 8/12/02
His family, son Scott who's a Marine aviator with two children, youngest name Bart, and daughter Page (former Navy) is a Navy wife with two wee ones. We all gathered to celebrate Mrs. Creed's 90th last week. Bart would be proud of his fine children. And thrilled that his mother has kept the faith so well. I remarried a Marine aviator and had another son. I'm now a freelance writer with articles focused frequently on the memory of Bart. In '96 the search teams found witnesses who indicate Bart died soon after he parachuted into Laos and was buried in a bunker nearby. The search for his grave goes on though that part of Laos is now overgrown with jungle. His family thanks all of you who've cared for so long. SUSAN CREED PERCY, 2/14/01
I remember the day your name was listed in the Reporter Dispatch as Missing in Action. My Mom and I drove down to the Lumber Yard to see your parents. I was just a little girl, and didn't really understand the significance of what was happening. I remember your mom and mine just looking at each other. I won't ever forget their eyes. VERONICA REPANTI, 2/12/01
Proceedings Article
Reprinted from Proceedings with permission; Copyright ©2004 U.S. Naval Institute:
Rays from the morning sun slipped under the shade and bounced off the silvery metal like an exclamation point. Even without my glasses I knew it was the bracelet. I knew the inscription on it—Lt. Barton S. Creed, USN-MIA, March 13, 1971—by heart. As the simple nickel-plated semicircle rested there on the dresser in my son's guest room, I knew the journey it had taken before it came to that place.

She was a young nursing student in the early 197Os when the Vietnam War still raged but was near its inglorious end. She had cared about the soldiers who fought the unpopular war, the ones who lived and the ones who died. She had been moved, too, by the plight of men who were held as prisoners of war (POWs) or were missing in action (MIA), their fates unknown.

Wanting to do something—anything—to help the cause of those men, she bought the plain memorial bracelet from an organization raising funds to keep the issue of the POWs and MIAs before the public. She did not ask for any one man's name, because she did not know any of them or their families personally. So she requested a name at random. A man she never had known became someone in whom she would invest her hopes and prayers for a safe return home.

She also requested, and was sent, a brief biography of Lieutenant Barton S. Creed, a U.S. Navy flier missing in the jungles of Laos, on the other side of the world from his happy boyhood in Peekskill, New York. Shot down over Southeast Asia soon after his 25th birthday, he had been hurt but was alive on the ground. His last radioed words were, "Get me out now. They are here." Then he was gone, leaving behind devoted parents, a brother, a wife, and a son and daughter. He was never heard from again.

Marrying and practicing nursing in the Indianapolis area, she continued to wear the bracelet for almost 20 years, never forgetting Bart, always searching the news for the repatriation of remains of those lost from that war, always wondering what happened to him and to his family.

It was with mixed emotions that she and her family moved from Indianapolis to a small town outside Akron, Ohio, in 1992. But that move entangled with fate to answer some of her decades-long questions about the man whose name she wore on her wrist.

In a different area, beginning a different job, she scanned the paper daily to get a better sense of what went on in her new town. She read the obituaries to know the histories of ordinary folks and she read the wedding and engagement announcements to know their futures. That was when her eyes and her heart almost stopped.

Among the engagement announcements was the picture of a handsome young man in a Marine Corps uniform. In front of him sat a pretty local Ohio girl. "To marry in August," it read. But what pulled her up short was the name under the picture. "Creed." She continued reading. Second lieutenant Scott Creed, who was to marry Barbara Houck, was the son of a Marine colonel and his wife from Virginia. Oh well, it was not him, she thought at first. Then she continued and found there was more. "He is also the son of Lt. Barton S. Creed, USN, MIA in Laos since 1971."

Stunned and tearful, she quickly wrote down the names of Barbara's parents, who lived in the same small town. She found their number in the phone book. She hesitated to call, fearing it would be intrusive in the lives of families who did not know her. In the belief that what she had to tell would be important to them, she overcame the fear and finally placed the call.

Without hesitation, both families asked her to come to the wedding. She had earned a place on the groom's side of the aisle after all those years of caring about his father, and about him. He had, after all, grown up in her heart, if not in her reality.

When the ceremony ended and the guests had gone outside, she went into the vestibule of the church where the bride and groom were preparing to emerge as husband and wife under the traditional sword arch of a military wedding.

"I think it's time for you to have this," her voice quaked as she handed the bracelet to the young man who represented the future his father had been denied. He smiled at her as he took it. Then he embraced her. And a story that has not ended added one more chapter to a family's search for peace and closure.

I looked at the bracelet again as I rose from the bed in my older son's guestroom. Suddenly, memories were interrupted by the sounds only a baby can make. I left the bedroom to gaze on a symbol of how life continues. I lifted my new grandson and held him in my arms. I melted into his big blue eyes as I greeted him brightly, "Good morning, Barton Creed."

Mrs. Percy married Lieutenant Barton Creed in 1967, soon after his graduation from the U.S. Naval Academy. She has since remarried.
Distinguished Flying Cross
From an email from Susan Creed Percy on January 26, 2019:
The President of the United States takes pleasure in presenting the Distinguished Flying Cross posthumously to Lt. Cmdr. Barton S. Creed. On 13 March 1971, he participated in an aerial fight as a pilot of a jet aircraft in Attack Squadron 113 embarked from the U.S. Ranger during a combat operation against a hostile force in Southeast Asia. Lt. Cmdr. Creed delivered all his bombs on the assigned target and then volunteered to make a strafing run on trucks discovered by the forward controller. In the face of the enemy fire, he pressed his attack and succeeded in scoring direct hits on one of the trucks before his aircraft was hit by ground fire and he was forced to eject. Lt. Cmdr. Creed's outstanding courage, airmanship and total devotion to duty reflects great credit upon himself, and is in keeping with the highest traditions of the U.S. Navy.
Related Articles
Robert McCleery '67 was also in 26th Company.
Robert Hughes '67 was also on the 5th Battalion Staff in the Fall.
Barton is one of 34 members of the Class of 1967 on Virtual Memorial Hall.