ROBERT A. MCCLEERY, LTJG, USN
From USNA Virtual Memorial Hall
Lucky Bag
From the 1967 Lucky Bag:
Loss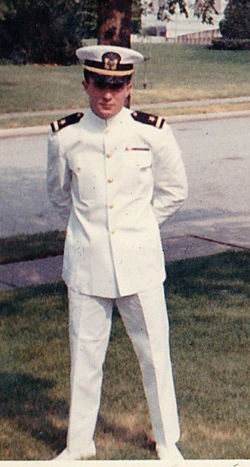 From the February 1970 issue of Shipmate:
Lt.(jg) Robert A . McCleery, USN, died 25 November at Jacksonville, Fla., when his aircraft collided with another.

A native of Kingston, Pa., Lt.(jg) McCleery was a member of the 26th Company and on the varsity lacrosse team for three years while at the Naval Academy. Following graduation from the Academy in June 1967, he reported to Pensacola for naval air training. In Aug. 1969 Lt.(jg) McCleery joined Attack Squadron 172, based at the Naval Air Station, Cecil Field and served as a pilot.

Survivors include his widow Linda of 5928 Firestone Rd., Apt. 209, Jacksonville, Fl. 32210; two daughters Kimberly and Tracy, and his parents Mr. and Mrs. Chester A McCleery of Garden City, N.Y.
From A-4 Skyhawk:
November 25, 1969
Lt(jg). John R. Martin and Lt(jg). Robert A. McLeery were killed when A-4C BuNo 149523 collided with A-4C BuNo 147839 at low level while in formation with a 3rd Skyhawk. Portions of one crashed into a home along State Road 13 about 30 miles south of Jacksonville, FL and the other cut a fiery swath through an orange grove in the Switzerland area of St. Johns county.
Ocala, FL, Ocala Star Banner, Wednesday, November 26, 1969.
Related Articles
Barton Creed '67 was also in 26th Company.
John Martin '67 was the other pilot killed in the collision.
Robert is one of 34 members of the Class of 1967 on Virtual Memorial Hall.