ROBERT A. MCCLEERY, LTJG, USN
From USNA Virtual Memorial Hall
Date of birth: July 31, 1945
Date of death: November 25, 1969
Age: 24
Lucky Bag
From the 1967 Lucky Bag:
Loss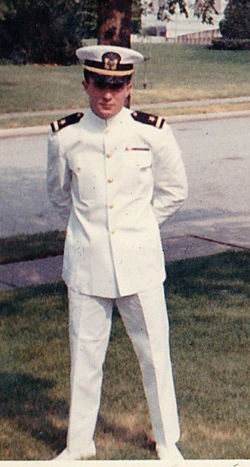 From A-4 Skyhawk:
November 25, 1969
Lt(jg). John R. Martin and Lt(jg). Robert A. McLeery were killed when A-4C BuNo 149523 collided with A-4C BuNo 147839 at low level while in formation with a 3rd Skyhawk. Portions of one crashed into a home along State Road 13 about 30 miles south of Jacksonville, FL and the other cut a fiery swath through an orange grove in the Switzerland area of St. Johns county.
Ocala, FL, Ocala Star Banner, Wednesday, November 26, 1969.
Related Articles
Barton Creed '67 was also in 26th Company.
John Martin '67 was the other pilot killed in the collision.
Robert is one of 34 members of the Class of 1967 in Memorial Hall.