ROBERT F. DALY, LT, USN
From USNA Virtual Memorial Hall
Birthdate & Date of Loss
| | |
| --- | --- |
| Date of birth: | June 4, 1920 |
| Date of death: | January 12, 1945 |
| Age: | 24 |
Lucky Bag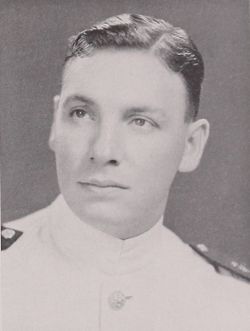 From the 1943 Lucky Bag:
ROBERT FRANCIS DALY

Manhattan, New York

We know very little about Rosebud before he deserted the sidewalks of New York for the cobblestones of Annapolis. It was not long after he arrived, however, before he was getting his full share and even more of "Plebe Year"—everyone liked to run that good-natured Irishman. Bob was active at football and lacrosse, but he never excelled because he preferred sleep to workouts. That same love of sleep forced him to adopt unique study methods which he alone was able to use. Yardbird lost two roommates who attempted to use his system of study. Rosy is always good company and he will be a fine officer anywhere in the Navy.
The Class of 1943 was graduated in June 1942 due to World War II. The entirety of 2nd class (junior) year was removed from the curriculum.
Loss
Robert was lost when USS Swordfish (SS-193) was sunk, probably by enemy vessels, off the Ryukyu Islands on January 12, 1945.
His wife was listed as next of kin.