ROBERT R. WILSON, CDR, USN
From USNA Virtual Memorial Hall
Lucky Bag
From the 1952 Lucky Bag:
Loss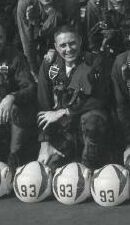 From Find A Grave:
VA-93 Commanding Officer CDR Robert R. Wilson, United States Navy was killed July 10, 1968 in a helicopter crash near Clark Air Force Base, Luzon, Phillipines.
From the November 1968 issue of Shipmate:
Cdr. Robert R. Wilson, USN , died 10 July in a helicopter accident while en route from Clark Air Force Base to Manila, Philippines. He had been serving in USS Bon Homme Richard.

Cdr. Wilson, who was born in Detroit, Mich., was Brigade Commander and graduated with honors from the Naval Academy in 1952. A naval aviator, he completed various aviation assignments, then was selected to attend the University of Colorado where he received a Master's degree in nuclear physics, and had almost completed work on a Ph.D. He served on the Staff of Commander in Chief Atlantic, and received a Letter of Commendation from Admiral Moorer for his services.

He completed the Armed Forces Staff College course, then served on Carrier Air Group 12 Staff in San Diego, Calif. His last tour was as commanding officer of Attack Squadron 93. He served in Vietnam for about seven months, leading his squadron on a number of missions, and had been nominated for the Distinguished Flying Cross and the Bronze Star Medal. He had received orders to attend the Nuclear Power School at Vallejo, Calif., and from there he was to be assigned to USS Enterprise as executive officer; the accident occurred two days before his relief of his squadron.

Surviving are his widow, Marlene Hester, of 1529 Pinar Drive, Orlando, Fl. 32807; four sons, Robert Thomas, Earl Roland, Mark Daughton and Edmond Denis, and a daughter Teresa Anne. Also his mother, Mrs. Regina Helen Davis of 5474 Montecito Ave., Santa Rosa, Ca. 95404.
He is buried in Florida. Unable to find citations for the Distinguished Flying Cross or Bronze Star referenced on his headstone.
Robert is one of 50 members of the Class of 1952 on Virtual Memorial Hall.