ROBERT R. WILSON, CDR, USN
From USNA Virtual Memorial Hall
Lucky Bag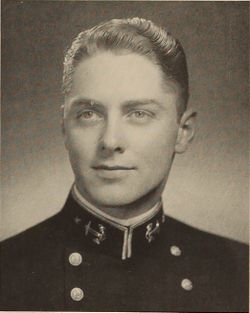 From the 1952 Lucky Bag:
Robert Roland Wilson

Dallas, Texas

When Bob decided to do something, it usually got done. Perseverance is a quality hard to find in the average man, but it was one of Bob's characteristics for four long years; it kept those stars shining brightly, and made possible his illustrations found throughout the Log and Trident magazines. Somewhat of a perfectionist, he disliked anything that was not done well. His intelligence, good looks, and genius for self-promotion among the fairer sex kept the ranks of his female followers well filled. Upon graduation, Willy intends to go into Naval aviation as a stepping stone toward future work in aeronautical engineering.
He was also a member of the Brigade staff (1st and 3rd sets), the art club, and a recipient of an "E Award."
Loss
From Find A Grave:
VA-93 Commanding Officer CDR Robert R. Wilson, United States Navy was killed July 10, 1968 in a helicopter crash near Clark Air Force Base, Luzon, Phillipines.
He is buried in Florida.