ROBERT STUART, JR., 2LT, USA
From USNA Virtual Memorial Hall
Date of birth: October 8, 1825
Date of death: July 31, 1863
Age: 37
Loss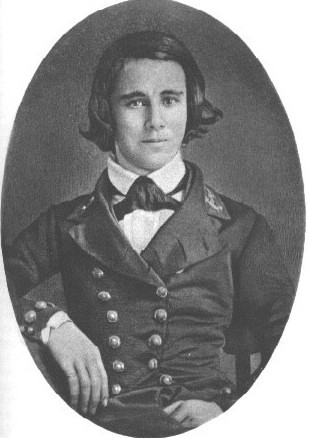 Robert was lost on July 31, 1863, when he drowned in Cedar Creek near Warrenton, Virginia. He was a member of Company K, 2nd New York Cavalry Regiment, and was officer-of-the-day for the 2nd Cavalry Brigade of General Gregg's Division.
From New York State Military History Museum:
Lieut. Robert Stuart, 2nd N. Y. Cavalry, who was accidentally drowned on the 30th ult., near Warrenton Junction, Va., was interred in the Cemetery, Roslyn, on Friday last. He had volunteered at his country's call and served with credit to himself in the army of the Union. His untimely death was not only a loss to the military service, but a source of grief to a wide spread circle of friends. He leaves a widow and two small children.

His remains were embalmed and brought on by Capt. O. J. Downing, to his late residence at Roslyn, where solemn and appropriate funeral services were performed by the Rev. Mr. Ely. Five of his companions in arms, and five of his fellow citizens, acted as pallbearers. The coffin was placed in centre of the spacious hall of his noble mansion, covered with the national flag under which had so nobly served, over which was placed his sword, which had never been drawn but in defence of that flag.
He was survived by his wife, Ellen Ward, and son, Robert.
Robert is buried in Michigan.
Obituary
From researcher Kathy Franz:
Robert's family lived in Michilimacinac, Michigan, where his father was a trader with the American Fur Company. Robert's mother was Elizabeth, and he had eight siblings but four died as young children. Their home there is now a national historic site housing a museum. In 1834 the family moved to Detroit. His father became the Michigan State Treasurer, and he died in 1848.

Robert graduated from the Naval School in 1847, and the next year married Ellen Eliza Cairns on August 3. Virginia was born June 6, 1849, in Erie, Pennsylvania, and William was born October 22, 1850, in Detroit. Their son Robert L. was born April 8, 1853, in Spezzia, Italy, where Robert was stationed with the Mediterranean Squadron. In August 1854, Robert was on the Cumberland and his family was still in Spezzia when he requested to be sent home to the United States. It was so granted in November. On April 6, 1857, he was ordered to the sloop Dale to go to Africa with Thomas Pelot (Class of 1855) and Hunter Davidson (Class of 1847). Robert instead resigned on April 16.

Four years earlier, in the New York Supreme Court, William Cairns, Jr., his wife Ann Eliza, and Robert Stuart won a judgment to sell part of the Glass House Farm owned by the deceased George Rapelje. Located in the 20th Ward of Manhattan, bounded by 10th and 11th Avenues and 39th and 42nd Streets, this area now includes the Lincoln Tunnel and luxury condominiums.

Robert's family lived in Roslyn, New York, when on August 15, 1862, he enlisted as a private in the New York Volunteer Cavalry's Company K. He quickly was promoted to 1st Sergeant in December and to 2nd Lieutenant in February 1863. Serving in what was known as the Harris Light Cavalry, it published a patriotic song about itself in April 1863. The song said the cavalry covered the area from the Rappahannock to the Potomac, and fought in Falmouth, Cedar Mountain, and Manassas, Virginia. When General George Dashiell Bayard was killed in December, his brigade transferred under General David McMurtrie Gregg. Robert was commended for bravery during the first large scale cavalry battle at Brandy Station, Virginia, on June 9. His cavalry company was next stationed at Warrenton where he drowned in Cedar Creek on July 31.

The funeral was held at Robert's home in Roslyn. The newspaper notice on Thursday, August 6, stated "The cars leave Hunter's Point, opposite Thirty-fourth street at eight o'clock A.M. on Friday, and carriages will be in attendance at Hempstead Branch to convey the friends to Roslyn in time for the funeral." Robert was buried with his parents and siblings in Elmwood Cemetery in Detroit, Michigan. Robert's brother David was an Army Brigadier General in the Civil War, and John was a warranted Master in the Navy who died in 1853.

Robert's widow Ellen married Congressman Elijah Ward on August 28, 1866, and they lived in Roslyn. When she died, her three children had the Roslyn Clock Tower built in her memory. On the grounds is a cannon from the Spanish gunboat Don Jorge Juan which was sunk July 21, 1898, by the USS Wasp. Ellen's estate totaled $3 million, and she bequeathed generously to her favorite charities and estate staff.

Before Robert was born, his father and his great uncle David were fur traders and explorers. One expedition was published in Ross's Adventures of the first settlers on the Oregon or Columbia River, 1810-1813. While on the ship Tonquin traveling around Cape Horn, David and others went ashore at Falkland's Island. Surprisingly, the ship took off, and the nine persons ashore squeezed into a small boat and followed the ship through "a rough and tempestuous sea." Robert's father held a pistol to the captain's head and said that if he didn't stop, "you are a dead man this instant." The Detroit newspaper credited the two with finding the South Pass through the Rocky Mountains rather than Colonel John C. Fremont. The newspaper reported that they led a group from "Astoria, on the Columbia River, overland to the Mississippi, through the South Pass of the Rocky Mountains, and thus pioneered the highway from the Atlantic to the Pacific for all coming time."
Wartime Service
From Find A Grave:
Enlisted in Army as private, Company K, 2nd New York Cavalry, to serve for 3 years. August 15, 1862. First Sergeant Dec. 1, 1862, Second Lieut. Feb. 1863.
The entire service of the 2nd New York Cavalry Regiment is here; it (and Robert) saw combat in many battles throughout the war, including during the Gettysburg campaign. It appears he was a member of the 2nd Brigade staff at Gettysburg.
The Regiment had been in combat at least as recently as June 17; two other officers were killed on that date at Aldie, California.
Career
From the Naval History and Heritage Command:
Midshipman, 19 October, 1841. Passed Midshipman, 10 August, 1847. Master, 14 September, 1855. Lieutenant, 15 September, 1855. Resigned 16 April, 1857.
The "Register of Commissioned and Warrant Officers of the United States Navy and Marine Corps" was published annually from 1815 through at least the 1970s; it provided rank, command or station, and occasionally billet until the beginning of World War II when command/station was no longer included. Scanned copies were reviewed and data entered from the mid-1840s through 1922, when more-frequent Navy Directories were available.
The Navy Directory was a publication that provided information on the command, billet, and rank of every active and retired naval officer. Single editions have been found online from January 1915 and March 1918, and then from three to six editions per year from 1923 through 1940; the final edition is from April 1941.
The entries in both series of documents are sometimes cryptic and confusing. They are often inconsistent, even within an edition, with the name of commands; this is especially true for aviation squadrons in the 1920s and early 1930s.
Alumni listed at the same command may or may not have had significant interactions; they could have shared a stateroom or workspace, stood many hours of watch together… or, especially at the larger commands, they might not have known each other at all. The information provides the opportunity to draw connections that are otherwise invisible, though, and gives a fuller view of the professional experiences of these alumni in Memorial Hall.
September 1842
Midshipman, Sloop John Adams
January 1843
Midshipman, Sloop John Adams
October 1843
Midshipman, Sloop John Adams
January 1844
Midshipman, Sloop John Adams
January 1846
Midshipman, Frigate Cumberland
January 1847
Midshipman, Ohio
January 1848
Midshipman, Naval School
---
Others at this command:
January 1849
Passed Midshipman, Steamer Michigan
---
Others at this command:
January 1850
Passed Midshipman, Steamer Michigan
January 1851
Passed Midshipman, Steamer Michigan
January 1852
Passed Midshipman, Steamer Michigan
January 1853
Passed Midshipman, Steam Frigate Powhatan
---
Others at this command:
January 1854
Passed Midshipman, Mediterranean Squadron
January 1855
Passed Midshipman, Frigate Cumberland
---
Others at this command:
January 1856
Lieutenant, Navy Yard, Boston
January 1857
Lieutenant, Store Ship Relief
Memorial Hall Error
Robert is not listed with his classmates in Memorial Hall. This omission was discovered by researcher Kathy Franz.
Joseph is one of 32 members of the Class of 1847 on Virtual Memorial Hall.
The "category" links below lead to lists of related Honorees; use them to explore further the service and sacrifice of the alumni in Memorial Hall.