ROSS K. BRAMWELL, LTJG, USN
From USNA Virtual Memorial Hall
Lucky Bag
From the 1948-A Lucky Bag: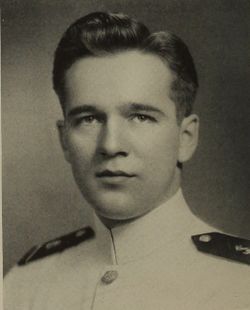 Ross Kay Bramwell

Ogden, Utah

Ott is a typical Westerner from Ogden, Utah. A year of college lightened the academic burden and enabled him to pursue his varied interests, including women, a little more intensely. Ross' remarkable all-round athletic ability, his keen appreciation of a joke, and his engaging conversation make him welcome in any gathering. Most noteworthy among his pet peeves: the Civil War controversy and the prevalent eastern conception of Utah as a broad, hot salt flat. He possesses an insatiable craving for toasted cheese sandwiches and life in his rugged Utah mountains. One has in Ross an associate extraordinary, who leaves nothing to be desired as a lifelong friend of highest accord.
Ross was on the Brigade staff (1st set), was a member of the LOG staff, and a member of the Reception Committee. He graduated with the class of 1948-A, the last of the wartime-accelerated classes, in June 1947. (The bottom half of the class by academic standing, designated 1948-B, completed an extra year and graduated in June 1948.)
Obituary
From The Salt Lake Tribune on September 7, 1951:
Lt. (j.g.). Ross K. Bramwell, 26, U. S. Navy, was killed Sept. 4 while flying a jet plane in combat over Korea, his wife, Mrs. Donna Rae Denkers Bramwell, 2526 Taylor Ave., was informed Thursday by the Department of Defense.

Lt. Bramwell had been in the Pacific area since last June and was assigned to Korea only three weeks ago. He was killed Tuesday while flying an F9F5 jet fighter in a combat zone, as a member of the 51st Fighter Squadron.

He was born June 8, 1925, in Ogden, a son of Wilfred L. and Josephine Spilsbury Bramwell. He was graduated from Ogden High School and Weber College which he attended under the Navy's V-12 program during World War II. After graduating from Weber College, Lt Bramwell attended Idaho State College at Pocatello and then received an appointment as midshipman to the U. S. Naval Academy at Annapolis, Md. He later took Navy flight training at Pensacola, Fla., and Corpus Christi, Tex., and served aboard the aircraft carrier, USS Antietam.

On April 29, 1948, he married Donna Rae Denkers, in Ogden. He was a member of the Church of Jesus Christ of Latter-day Saints. Surviving are his widow and a daughter, Catherine Mary Bramwell, Ogden; his parents, Los Angeles, Cal.; six brothers and two sisters: Lawrence W. Bramwell La Jolla, Cal.; Kent S. Bramwell San Francisco; Dee R. Bramwell, Alexandria, Va.; Ray J. Bramwell, Houston, Tex.; Wendell Bramwell, Denver, Colo.; Dr Paul Bramwell, Bremerton Wash.; Mrs. R. G. James and Mrs. Joe T. Johnson, Ogden.
His aircraft "caught fire, probably due to AAA, crashed/exploded near Haengsan."
Though his remains were not recovered, he has a memorial marker at Arlington National Cemetery.
Family
His daughter, Catherine Bramwell, passed away on July 13, 2010. This obituary says her mother - Ross' wife - predeceased her.
Related Articles
John Wick '48 was also on the LOG staff.