ROY T. ANDERSON, LTJG, USN
From USNA Virtual Memorial Hall
Birthdate & Date of Loss
| | |
| --- | --- |
| Date of birth: | February 22, 1923 |
| Date of death: | December 18, 1950 |
| Age: | 27 |
Lucky Bag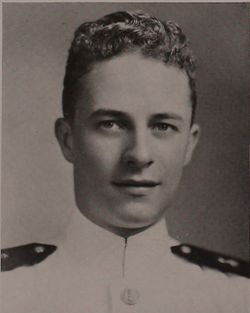 From the 1947 Lucky Bag:
Roy Theodore Anderson

Battle Creek, Michigan

This little guy knows all the answers. He's all work and no play It's "Andy, how do you do this one?" and, "What, little man, studying on Sunday afternoon?" But this live wire of a sandblower has a bathrobe full of athletic awards to his credit and he got them by working. His curly hair, of which he is privately proud, and his grin are "cute" to the girls, but not one has secured a spot in his heart. He's quiet, willing, and disconcertingly accurate. We've not discovered his vices or weaknesses, and only the Academic Board ever got him down. Hey, Duck-butt!
Roy was a member of the cross country, soccer, and track teams.
The Class of 1947 was graduated in June 1946 due to World War II. The entirety of 2nd class (junior) year was removed from the curriculum.
Loss
From VP-931 Mishap page:
In the darkness of early morning,on 18 December 1950, P2V-3W BuNo. 124357 departed NAS Whidbey Island, Washington in response to a submarine alert off the coast of Washington. Shortly thereafter radio contact with the aircraft was lost. Search and rescue was initiated for a period of time without success and, consequently, the aircraft and crew were listed as missing. Approximately nine months later a Canadian aircraft, straying off course, found the wreckage on Mount McCreight near Campbell River, Vancouver Island. There were no survivors.

The crew members were:

Pilot - LT Lalonde M. Pinne
Co-Pilot - LT(jg) Roy T. Anderson
Co-Pilot - Ens James F. Morris
Navigator - Midshipman George B. Hogaboom
Plane Captain - ADC Walter W. Whitehead
1st Radioman - ALC Milton E. Berquist
2nd Radioman - AT2Robert C. Stockton
Radarman - Frederick J. Sinclair USNR
1st Ordnanceman - AO1 Edward G. Lunn
Crewman - ATAN James F. Christiana
Photographer - AF3 Verl L. Hancock
Roy is buried in Michigan.
Related Articles
Joseph Melesky '47 and Henry Rathbone '47 were also members of the soccer team.