JOHN N. GUILD, 2LT, USMC
From USNA Virtual Memorial Hall
Birthdate & Date of Loss
| | |
| --- | --- |
| Date of birth: | May 19, 1925 |
| Date of death: | September 21, 1950 |
| Age: | 25 |
Lucky Bag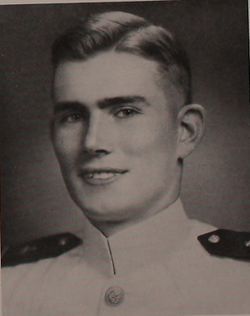 From the 1947 Lucky Bag:
John Ninian Guild

Glenwood Springs, Colorado

Big John, a regulation and practical-minded fellow from Colorado's western slope, will long be remembered by his classmates for his amiable personality, honesty, and more than anything else, a shoe shine and brace second to none. After floating through a term of academics, "Reason-it-out" Guild crossed "rivers" with fabulous ease. Study hours were spent with the Radio Amateur's Handbook; week-ends in the photographers' dark room; and almost every afternoon would find him pursuing his favorite sports, swimming, sailing, and water polo. Albie, an Army brat, for three years anticipated a career in the Marines.
The Class of 1947 was graduated in June 1946 due to World War II. The entirety of 2nd class (junior) year was removed from the curriculum.
Loss
John was lost in the action detailed in his Navy Cross citation, below. He is buried in Arlington National Cemetery.
From Hall of Valor:
The President of the United States of America takes pride in presenting the Navy Cross (Posthumously) to Second Lieutenant John Ninian Guild (MCSN: 0-49817), United States Marine Corps, for extraordinary heroism in connection with military operations against an armed enemy of the United Nations while serving as a Platoon Leader in Company C, First Battalion, First Marines, FIRST Marine Division (Reinforced), in action against enemy aggressor forces during the assault and capture of Hill 85 near Yongdungp'o, Korea, on 20 September 1950. Leading his platoon in an aggressive attack up a steep slope without cover against well-entrenched enemy positions on high ground, Second Lieutenant Guild coolly directed the deployment of his men and, exposing himself to hostile grenades and machine-gun, rifle and mortar fire, succeeded in personally destroying two of the enemy. Pressing onward at the head of his group in the face of the continued intense hostile barrage, he was fatally wounded but refused medical attention until all his men had been cared for and, despite his own critical condition, continued to direct the attack until he lost consciousness. An officer of outstanding courage and leadership, Second Lieutenant Guild, by his indomitable fighting spirit and unwavering devotion to duty, upheld the highest traditions of the United States Naval Service. He gallantly gave his life for his country.

General Orders: Authority: Board of Awards: Serial 358 (April 9, 1951)
Action Date: 20-Sep-50
Service: Marine Corps
Rank: Second Lieutenant
Company: Company C
Battalion: 1st Battalion
Regiment: 1st Marines
Division: 1st Marine Division (Rein.)