JOHN L. SWITZER, LCDR, USN
From USNA Virtual Memorial Hall
Birthdate & Date of Loss
| | |
| --- | --- |
| Date of birth: | March 23, 1925 |
| Date of death: | November 22, 1959 |
| Age: | 34 |
Lucky Bag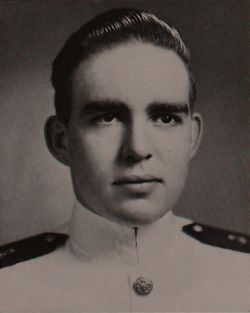 From the 1947 Lucky Bag:
John Lamar Switzer

Pensacola, Florida

Here, ladies and gentlemen, we have the eighth wonder of the world, a Naval aviator's son who doesn't aspire to be a fly boy. John came from New Mexico Military Institute and always thought the deck we lived on should have been called a stoop. When not playing cards with his Bridge Club, consisting entirely of plebes who wouldn't dare complain about his playing, John could be found talking to re-exam buddies or admiring his collection of foo-foo juices. To him a smile is about the most useless action of man, a hearty laugh is no more trouble, so why go only half way?
The Class of 1947 was graduated in June 1946 due to World War II. The entirety of 2nd class (junior) year was removed from the curriculum.
Loss
From Find A Grave:
Lt. Cmdr. J. L. Switzer, USN, a designated Naval Aviator, died as result of an aircraft accident.

In 1948 married the former Miss Mary Carroll Brent, and they had three sons.
Memorial
From History of NAS Patuxent River, Maryland:
Switzer Road – In honor of Navy Lt. Cmdr. John L. Switzer who lost his life in an A4D-2N that exploded in midair in the Patuxent River, on 21 November 1959
Family
In addition to his wife and sons, he was survived by his parents and sister. His father was a 1921 graduate who commanded two aircraft carriers in World War II and retired a Vice Admiral. His mother was the first woman named to the Naval Aviation Museum Foundation Board, in 1992. His younger brother, Wendell Switzer, Jr. '53, was lost in a naval aviation accident in 1955.
Related Articles
His younger brother, Wendell Switzer, Jr. '53, was also lost in an aircraft accident.