WENDELL G. SWITZER, JR., LTJG, USN
From USNA Virtual Memorial Hall
Birthdate & Date of Loss
| | |
| --- | --- |
| Date of birth: | April 11, 1930 |
| Date of death: | September 1, 1955 |
| Age: | 25 |
Lucky Bag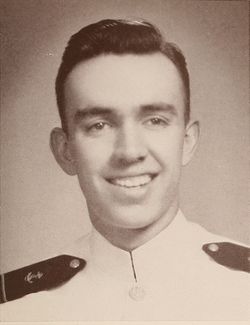 From the 1953 Lucky Bag:
WENDELL GRAY SWITZER, JR.

Pensacola, Florida

Born the son of an Academy graduate, Windy was pre-destined to end up at the Academy. His secondary education was picked up all over, ending at Woodberry Forest. Being a loyal alumnus, he still looks forward to that Woodberry Oracle that comes twice a month. In spite of occasional differences of opinion with the Executive Department, Gray's love for dear old Bancroft was shown by the numerous weekends he spent within its walls. When he wasn't getting more than his share of rack-time, he managed to lend his talents to the LOG, Spanish Club, and Glee Club. An avid reader of the classics, he never missed an episode of Mike Hammer, his idol.
Loss
From Find A Grave:
Ensign W. G, Switzer, USN, a designated Naval Aviator, graduated U.S. Naval Academy, Class of 1953. Died in the crash of his AD Skyraider aircraft near Norfolk, VA. Was a member of Attack Squadron (VA) Forty-Two and was unmarried.
He was survived by his parents, his sister, and an older brother. The older brother, John Switzer '47, was later killed in a A4D accident at NAS Patuxent River in 1959. His father was a 1921 graduate who commanded two aircraft carriers in World War II and retired a Vice Admiral. His mother was the first woman named to the Naval Aviation Museum Foundation Board, in 1992.
Wendell is buried in Arlington National Cemetery.
Related Articles
His older brother, John Switzer '47, was also lost in a Naval Aviation accident.