SAMUEL M. LOGAN, LT, USN
From USNA Virtual Memorial Hall
Birthdate & Date of Loss
| | |
| --- | --- |
| Date of birth: | November 27, 1918 |
| Date of death: | August 24, 1944 |
| Age: | 25 |
Lucky Bag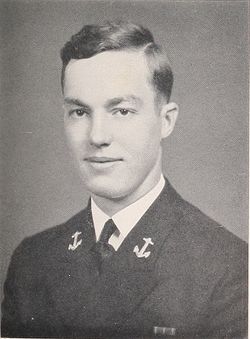 From the 1942 Lucky Bag:
S. M. LOGAN

Sandbar

"Sandbar," alias "The Brain" (one of the original eager boys), carved his way through the first two years with his trusty slipstick in a bloody fashion, sole extra activity being basketball. Confirmed red mike, cynic par excellence, four stars, three stripes, and a big grin that's the boy. If it can't be graphed or integrated, he isn't interested.

Basketball 4, 42; Stars 4, 3, 2, 1; Military Order of Foreign Wars Prize; 3 Stripes.
Samuel graduated first in his class.
The Class of 1942 graduated on December 19, 1941, less than two weeks after the United States entered World War II. The class had previously been scheduled to graduate in February 1942.
Loss
Samuel was lost when USS Harder (SS 257) was sunk by Japanese surface forces off Dasol Bay, Luzon, on August 24, 1944.
His wife, Kathryn Logan, was listed as next of kin.
From Hall of Valor:
The President of the United States of America takes pleasure in presenting the Navy Cross to Lieutenant Samuel Moore Logan (NSN: 0-111646), United States Navy, for extraordinary heroism and distinguished service in the line of his profession while serving on board the U.S.S. HARDER (SS-257), on the FOURTH War Patrol of that submarine during the period 29 March 1944 to 20 April 1944, in enemy controlled waters of the Pacific Area. On 1 April 1944, during that war patrol, Lieutenant Logan unhesitatingly volunteered to lead a rescue team dispatched from the HARDER to an enemy held island to rescue a naval aviator whose plane had been shot down. Although fully aware that unforeseen circumstance might result in the forced abandonment of the entire party, Lieutenant Logan courageously fought his way through the breakers and a coral reef despite dangerous hostile sniper fire and locating the exhausted aviator, succeeded in bringing him back to HARDER. His conduct throughout this action reflects great credit upon himself, and was in keeping with the highest traditions of the United States Naval Service.

General Orders: Bureau of Naval Personnel Information Bulletin No. 338 (May 1945)
Action Date: April 1, 1944
Service: Navy
Rank: Lieutenant
Division: U.S.S. Harder (SS-257)
A book, Salvation for a Doomed Zoomie, details the rescue for which Samuel was awarded the Navy Cross.
Silver Star
From Hall of Valor:
The President of the United States of America takes pleasure in presenting the Silver Star to Lieutenant Samuel Moore Logan (NSN: 0-111646), United States Navy, for gallantry and intrepidity in action against the enemy in the performance of his duties as Torpedo Data Computer Operator in the U.S.S. HARDER (SS-257), during an aggressive and successful War Patrol in enemy-controlled waters. His keen understanding of the fire control equipment and intelligent interpretation of attack data were of invaluable assistance to his Commanding Officer in conducting successful attacks which resulted in the sinking of five enemy ships totaling over 24,800 tons. His outstanding leadership and coolness in emergencies were an inspiration to the officers and men in his ship, and were in keeping with the highest traditions of the United States Naval Service.

General Orders: Commander in Chief Pacific: Serial 03196 (July 12, 1944)
Action Date: World War II
Service: Navy
Rank: Lieutenant
Company: Torpedo Data Computer Operator
Division: U.S.S. Harder (SS-257)
Legion of Merit
From Hall of Valor:
The President of the United States of America takes pride in presenting the Legion of Merit (Posthumously) to Lieutenant Samuel Moore Logan (NSN: 0-111646), United States Navy, for exceptionally meritorious conduct in the performance of outstanding services to the Government of the United States as Engineering Officer of the U.S.S. HARDER (SS-257) and as Diving Officer during all attacks on the FIFTH War Patrol of that Submarine in enemy-controlled waters during the period 26 May to 21 June 1944. His exceptional performance of duty in the line of his profession contributed greatly to the success of his vessel in a series of brilliant and heroic actions against the enemy in which U.S.S. HARDER sank five fleet-type Japanese Destroyers within a period of five days, in hazardous and restricted waters in the immediate vicinity of the enemy fleet anchorage at Tawi Tawi, and despite the severest enemy air and surface countermeasures. The great skill which he exercised in maintaining perfect depth control on all attacks was a most important factor in these encounters and in the performance of a highly successful mission of reconnaissance of enemy fleet units. His courage and devotion to duty were an example and an inspiration to his fellow officers and crew. His actions and conduct throughout were in keeping with the highest traditions of the United States Naval Service.

General Orders: Commander 7th Fleet: Serial 03609 (December 29, 1944)
Action Date: May 26 - June 21, 1944
Service: Navy
Rank: Lieutenant
Company: Engineering Officer
Division: U.S.S. Harder (SS-257)