STANLEY K. SMILEY, LT, USN
From USNA Virtual Memorial Hall
Date of birth: January 31, 1939
Date of death: July 20, 1969
Age: 30
Lucky Bag
From the 1963 Lucky Bag:
Obituary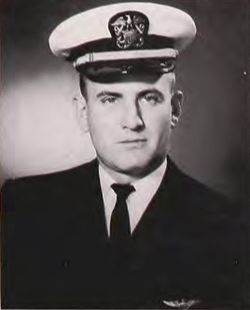 From the November 1969 issue of SHIPMATE:
Lt. Stanley K. Smiley, USN, was killed in action on 20 July while flying a combat mission over Vietnam. Memorial services were held aboard the USS ORISKANY and in the Naval Academy Chapel.

Born in Fayetteville, N. C, Lt. Smiley attended Valley Forge Military Academy of Wayne, Pa., before he was graduated from the Naval Academy in June 1963. He had flight training at Jacksonville, Pensacola, Meridian, and at Corpus Christi, and served in the Yorktown and Ticonderoga. A member of Attack Squadron 23 operating from the USS Oriskany, Lt. Smiley was on his third Vietnam tour. Among other awards, he held the Air Medal with Numeral 8, Commendation with combat "V" and the Navy Unit Commendation.

Survivors include his parents Col. Stanley Smiley, USA (Ret.) and Mrs. Smiley of P. O. Box 767, Valentine, Ne. 69201, and a brother.
From usna63.org:
LT Smiley was born in 1939 into a military family. Following in his father's military footsteps, LT Smiley entered the U.S. Naval Academy in 1959 and graduated with the class of 1963. LT Smiley entered naval flight training after graduation, was designated a Naval Aviator on 4 February 1965, and received orders to VS-25 where he flew S-2E ASW aircraft. From September to November 1967 he completed jet transition training and subsequently joined VA-23 on 4 December 1967, flying the A-4F Skyhawk.

VA-23 was assigned to CVW-19 and in April 1969 began a deployment to the western Pacific on board USS Oriskany (CVA 34). On the afternoon of 20 July 1969, LT Smiley launched as the lead of a two-aircraft flight on a road reconnaissance mission over Laos. While returning from the initial mission, LT Smiley sighted a truck and told his wingman that he was going to confirm whether it was rolling stock or a hulk. As the wingman prepared to follow his flight leader in an attack, he saw LT Smiley's aircraft enter into a shallow dive about 60 degrees off the planned attack heading. The aircraft crashed. Subsequent airborne search and rescue operations were unsuccessful; there was no sign that LT Smiley ejected from his aircraft. A ground search was not feasible due to enemy forces in the area. LT Smiley was declared Killed in Action/Body Not Recovered.

LT Smiley was posthumously awarded the Air Medal with Numeral "8," the Purple Heart, the National Defense Service Medal, the Vietnam Service Medal with two bronze stars, and the Republic of Vietnam Campaign Medal. LT Smiley was survived by his parents and a brother.
Stanley is one of 29 members of the Class of 1963 on Virtual Memorial Hall.