TERRY L. SMITH, LT, USN
From USNA Virtual Memorial Hall
Date of birth: December 3, 1941
Date of death: May 14, 1968
Age: 26
Lucky Bag
From the 1964 Lucky Bag:
Loss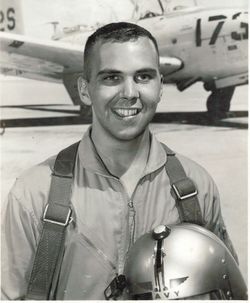 From the January 1969 issue of Shipmate:
Lt. Terry L. Smith, USN, died 14 May in a helicopter crash at the Naval Air Station, Cubi Point, Philippines. He was a pilot serving with Helicopter Support Squadron 7, Naval Air Station, Atsugi, Japan. At the time of the accident he was on TAD orders to HC-7, Detail 103 at Cubi Point.

Simultaneous services were held at the Cubi Point Chapel and at the Naval Air Station, Japan, with services held in the Presbyterian Church at Arcadia, Fla., on the 28th. Interment with military honors was in Oak Ridge Cemetery.

Lt. Smith was born in Norfolk, Va., and graduated from the Naval Academy in 1964. He served in USS Shangri-La, then had flight training at Pensacola, Fla. After receiving his wings in June 1966 he completed helicopter training at Ellyson Field, then completed Aircraft Maintenance School at Memphis, Tenn. He served with Helicopter Combat Support Squadron One at NAS Im- perial Beach, with duties as co-pilot on SAR Detail 109 in USS WORDEN and USS PRATT in the Gulf of Tonkin. In January 1968 he was assigned to HC-7 at Atsugi.

Surviving are his widow, Tanya, of 3448 Eagle Ave., Key West, Fl. 33040, and a daughter, Leticia, his parents, Lt. and Mrs. Francis George Smith of 1818 Harris Ave., Key West; and a brother. Tec. Sgt. Ivan C. Smith, USAF (Ret), of Savannah, Ga.
From Find A Grave:
Lieutenant Terry L. Smith, 26 of the U.S. Navy was killed in a helicopter crash. Lt. Smith and his wife, the former Tanya Fenton, and daughter were living in Atsugi, Japan.

Lt. Smith was born in Virginia and attended the U.S. Naval Academy in Annapolis, Md. He was a helicopter pilot and was making the Navy a career. He was a member of the Presbyterian Church. He is survived by his wife, Tanya Fenton Smith, now living in Arcadia, one daughter, Arcadia, his Mother and Father, Commander Francis Smith of Key West, Florida; and one brother, Ivan Smith, with the U.S. Air Force.

Funeral services were held Tuesday, May 28, at 11 a.m., from the Arcadia Presbyterian Church, with Rev. Drennon B. Cottingham officiating. Complete Military Honors were held at the graveside at Oak Ridge Cemetery. Robarts-Grady Funeral Home in charge of arrangements.

Pallbearers were members of the U.S. Air Force Firing Squad out of McDill Air Force Base, Honorary pallbearers were six Naval Officers who were members of Lt. Smith's Graduating Class from Annapolis, Md.
It appears that Terry was one of three people lost in the crash of this KH-2A helicopter.
Related Articles
Robin Cassell '64 was also in 15th Company.
Terry is one of 25 members of the Class of 1964 on Virtual Memorial Hall.