THEODORE C. FREEMAN, CAPT, USAF
From USNA Virtual Memorial Hall
Lucky Bag
From the 1953 Lucky Bag:
Loss
From Wikipedia:
On the morning of Saturday, October 31, 1964, Theodore Freeman was making a return flight from McDonnell-Douglas training facilities in St. Louis, MO. He was killed during final approach to landing at Ellington Air Force Base, Houston, Texas, when a goose flew into the port-side air intake of his NASA-modified T-38 Talon jet trainer causing immediate engine failure. The bird strike was plainly observed by two airmen on duty in the Ellington AFB Air Traffic Control Tower Cab. Flying shards of Plexiglas may have entered the jet engine during the crash. Within seconds of the goose strike, the plane pancaked short of the base perimeter fence onto a public highway and caused the plane to immediately and violently lose structural integrity. The two observers did not witness any evidence of Freeman ejecting from the stricken aircraft, but it was too close to the ground for a parachute to open properly in any event.
Ted was survived by his parents, a sister, his wife Faith Clark Freeman, and his daughter Faith Huntington. He is buried in Arlington National Cemetery.
Shipmate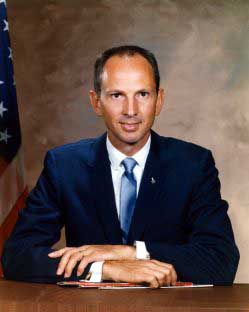 From the January 1965 issue of Shipmate:
Theodore C. Freeman died in an aircraft accident near Ellington Air Force Base on 31 OcT 1964. Ted was on a routine training flight conducting "touch and go" landings in a T-38 jet trainer and as he was conducting his second approach a snow goose struck the canopy. The impact caused both engines to flame out. He still had control and attempted to make the field. When he apparently realized that a landing was not possible, he veered to the left into an open field, probably in order to avoid buildings at Ellington. Seconds later, at slightly under 100 feet altitude, he ejected from his aircraft, too late for his parachute to deploy fully.

Captain Freeman, the first U. S. astronaut to die while in training, was buried 4 Nov. with full military honors in Arlington National Cemetery, with the entire astronaut team attending the services.

Ted joined the astronaut team on 18 Oct. 1963 and began his training at the Manned Spacecraft Center last February. He was an experienced pilot, having logged more than 3,300 hours flying time, including more than 2,400 hours in jet aircraft. He was also a graduate of both the Air Force's Experimental Test Pilot and Aerospace Research Pilot courses.

He attended the University of Delaware for one year, then entered the Naval Academy and was graduated in 1953. In 1960, he received a Master of Science degree in aeronautical engineering from the University of Michigan.

Ted's astronaut working specialty assignment was to follow the development of launch vehicles used in the manned space program. He had been assigned as booster monitor in the Mission Control Center at Cape Kennedy for the forthcoming GT-2 and GT-3 flights.

Ted is survived by his widow, the former Faith Dudley Clark, and a 10-year-old daughter Faith Huntington, from Nassau Bay, and by his parents Mr. and Mrs. John Freeman of Lewes, Del.
Honors
From Wikipedia:
The Clear Lake City-County Freeman Branch Library of the Harris County Public Library and Houston Public Library systems is named in memory of Freeman. An artificial island off Southern California is also named for him. This is one of the four "Astronaut Islands" built in Long Beach Harbor during the late 1960s as unsinkable platforms for oil drilling; the others were named Grissom, White and Chaffee, in honor of the astronauts killed in the Apollo 1 fire. The Theodore C. Freeman Highway in Lewes, Delaware is named after him.
Books
A family-approved account of Freeman's life and career appears in the 2003 book Fallen Astronauts by space historians Colin Burgess and Kate Doolan.
Oriana Fallaci's If the Sun Dies, a book on the early days of the American space program, features an account of Freeman.
Theodore is one of 62 members of the Class of 1953 on Virtual Memorial Hall.