THEODORE T. WALKER, LT, USN
From USNA Virtual Memorial Hall
Birthdate & Date of Loss
| | |
| --- | --- |
| Date of birth: | January 23, 1921 |
| Date of death: | November 7, 1944 |
| Age: | 23 |
Lucky Bag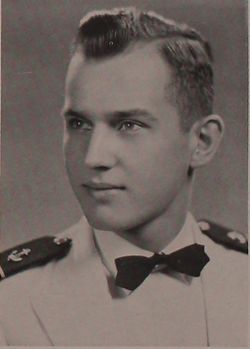 From the 1941 Lucky Bag:
THEODORE TAYLOR WALKER

Ft. Mitchell, Ky.

"High School Harry" we called him that unforgettable summer when we were insignificant. Little did we realize what lay behind that innocent expression and that slight build of the youngest man in '41. But when academics came we started to struggle while old Teddy just coasted along. When the end of that long lonely year came we all found ourselves "junior" to our "High School Harry." Of course the name was soon dropped! So he went as the years passed by, and although three or four years younger than most of us, he distinguished himself not only in studies but in that ancient sport of running. Yes, that slight build carries him over five miles or so in an astoundingly short time, a mere matter of twenty-five minutes!

Besides being the captain of Navy's 1940 Cross Country Squad, Ted also held up the glory of the Naval Academy milers on the track team. Yep, equally as fast on the track as he is on the slip stick—a true mark of an athlete and a scholar.

Cross Country 4, 3, 2, Captain 1 N; Track 4, 3, 2, 1 N*; Star 4, 3, 2.
The Class of 1941 was the first of the wartime-accelerated classes, graduating in February 1941.
Loss
Ted was lost when USS Albacore (SS 218) was sunk by a mine on November 7, 1944 while on patrol north of Hokkaido.
He was the boat's Executive Officer, and was awarded a Silver Star and Bronze Star (unable to find citations).
Ted has a memory marker in Kentucky.
No next of kin was listed, though he appears to have been survived by his mother.
Other
From On Eternal Patrol:
His niece, Louise Borden, wrote a children's book entitled Across the Blue Pacific, based on the true story of her uncle Ted.