THOMAS P. LANGE, LT, USN
From USNA Virtual Memorial Hall
Lucky Bag
From the 1967 Lucky Bag:
Loss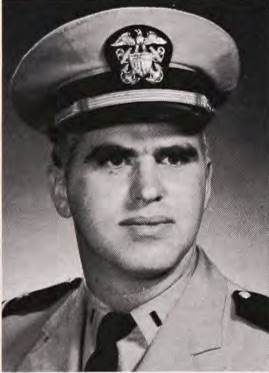 From the November 1970 issue of Shipmate:
Lt. Thomas Paul Lange, USN, died as the result of an aircraft accident while on a training flight at NAS North Island, Ca., on 7 August.

Born in Toledo, Ohio, he graduated from the Naval Academy in 1967. His first orders were to the USS LOFBERG and, while aboard her, he deployed to Vietnam. After returning to the United States he entered flight training at Pensacola and completed Advanced Jet Training in June 1970.

At the time of Lt. Lange's accident he was a student at VS-41, North Island, preparing to deploy to VAL-4, home based in Binh Thuy, Vietnam.

He is survived by his widow, Wendy Dombroflf Lange, 1482 San Altos Place, Lemon Grove, CA 92045 and his parents.
Tom was piloting a OV-1 Bronco crashed while practicing touch-and-goes at NAS North Island, CA. He was the student pilot; the instructor was also killed. (Link has an extensive account by eyewitnesses.)
Remembrances
From the Class of 1967's 50th Reunion Yearbook, courtesy of William Belden '67:
Coming from the northwest corner of Ohio with one year of ROTC and the University of Toledo, Tom was fully prepared for the rigors of USNA. Tom's roommate from first class year, Ken Barausky, remembers him as a determined and driven individual who still had plenty of time for good times and liberty. Tom did very well in academics and led the 13th Company to a number of Brigade Championships in Soccer and Fieldball. Tom went to the USS Lofberg for one year following graduation and then reported to Flight Training in 1968. While in flight training he and Ken were able to reconnect for a flight in a T-28 out of Whiting Field. It was a day of memories.

At the time of his death on 7 August 1970, Tom was a student in VS-41 preparing to deploy to VAL-4 based in Vietnam. He was survived by his widow, Wendy Dombroff Lange and his parents.
Thomas is one of 34 members of the Class of 1967 on Virtual Memorial Hall.
The "category" links below lead to lists of related Honorees; use them to explore further the service and sacrifice of the alumni in Memorial Hall.