VINCENT W. BARRY, ENS, USN
From USNA Virtual Memorial Hall
Lucky Bag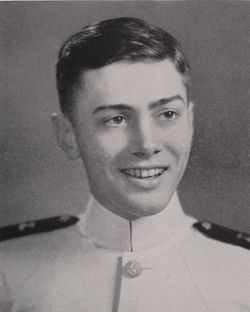 From the 1946 Lucky Bag:
Vincent Walter Barry

New Haven, Connecticut

As long as the Blue and Gold flies above the cinder path, the name of Walt Barry will not be forgotten at Navy. The Academy's distance ace ran so many records into the ground that Annapolis track fans were soon reading the Sunday sports columns only to learn who had won show money in the mile. Walt's Notre Dame background smoothed out the academic bumps, and a host of beautiful girls made his week-ends pleasant. The Navy certainly has every right to demand great things from Walt Barry.
The Class of 1946 was graduated in June 1945 due to World War II. The entirety of 2nd class (junior) year was removed from the curriculum.
Life & Loss
Unable to find any information about Vincent's life or loss. He does not appear on the killed in action panel in Memorial Hall.
Related Articles
John Caskey '46 was also a member of 10th Company.