WALTER L. DOUGLAS, JR., LCDR, USN
From USNA Virtual Memorial Hall
Birthdate & Date of Loss
| | |
| --- | --- |
| Date of birth: | unknown |
| Date of death: | November 19, 1944 |
| Age: | unknown |
Lucky Bag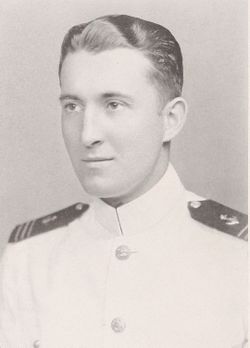 From the 1939 Lucky Bag:
WALTER LAWRENCE DOUGLAS, JR.

SOMERVILLE, MASSACHUSETTS

Punchy, Junior

With two years pre-med study at Boston College at his back and a Harvard accent on his lips, Doug arrived with a Hey—Bud—when-do-we-start?" attitude and has never lost that aggressiveness. Since he put on the gloves with the academic departments he has taken a count of nine, but came up scrapping and won the decision. He can hold his own on any field of sport and is especially apt with the rifle. Neat in all things and habitually well groomed, Doug is as much at home in the ballroom as on the ball field. He has a knack for making friends, a record of never having lost one, and, we confidently prophesy, a strong likelihood of continuing with similar success his associations in the Fleet.

Golf 2, 1; Water Polo 4, 3; Battalion Football 4, 3, 2, 1; Rifle 4, 3; Battalion Boxing 2, 1; Hop Committee 1; 1 P.O.
Loss
Walter was lost on November 19, 1944 while piloting a Curtiss SB2C Helldiver in the vicinity of Leyte Gulf. He was a member of Bombing Squadron (VB) 81 "Hell Razors" operating from USS Wasp (CV 18).
His wife was listed as next of kin.