WALTHER G. LANGLOH, LT, USN
From USNA Virtual Memorial Hall
Birthdate & Date of Loss
| | |
| --- | --- |
| Date of birth: | March 22, 1928 |
| Date of death: | September 24, 1957 |
| Age: | 29 |
Lucky Bag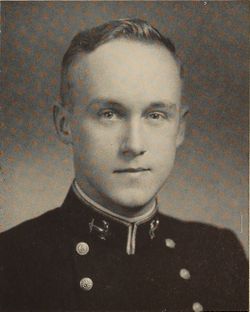 From the 1952 Lucky Bag:
Walter Gusteau Langloh

Hammond, Indiana

In an able attempt to dodge the draft, Walt signed up with the Fleet in '46. After going through NAPS as an ETM, Walt found a home in Bancroft that was a little different from the carefree days at Hammond, Indiana. Starring at plebe fencing, intramural sports and relaxation, he still found time to have his account checked for the German, Physics, Radio and Photo Clubs. His classmates will always remember Walt as the happy, blond-headed lad with the keen sense of humor. There were plenty of laughs and good times when Walt was with the troops.
Loss
From Arlington Cemetery:
On September 24, 1957, the Essex with VS-36, along with the USS Intrepid, USS Forestall were participating with NATO forces in operation 'Strike Back' with the USS Saratoga serving as flagship. Operation Strike Back was taking place above the Arctic Circle, off the coast of Norway.

In the early hours of that date the Saratoga was recovering aircraft when one of their F4D Skyray in the landing pattern crashed into the sea. The airborne Saratoga aircraft were joined by aircraft from the other vessels in search and rescue effort. S2F-2 aircraft with a crew of four from the VS-36 Squadron aboard the Essex joined in the search. Two of the S2F's collided in mid-air and crashed into the sea. An extensive search for the missing ensued. Press releases reported that 11 airmen were feared missing. … The bodies recovered from the S2F crash site could not be identified so the policy for a group burial was followed.
He is buried in Arlington National Cemetery with his crew.
Family
He was survived by at least two sisters, Lois & Lucy.