WARREN P. STRONG, JR., LT, USN
From USNA Virtual Memorial Hall
Birthdate & Date of Loss
| | |
| --- | --- |
| Date of birth: | 1918 |
| Date of death: | December 18, 1943 |
| Age: | ~25 |
Lucky Bag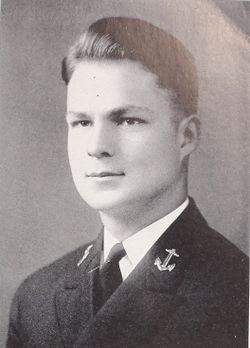 From the 1940 Lucky Bag:
WARREN POTTER STRONG, JR.

Plymouth, Massachusetts

The same self-tanged sea breezes that filled the sails of the good ship, Mayflower, also set in motion a wind of fate that would eventually send to the Naval Academy one whose forefathers made history by placing their feet on a Rock. It is only natural that Warren, whose entire life has been the sea, should choose to follow a naval career, and it is certain that he shall, after graduation to the fleet, be a true seaman on the bridge and a comrade in the wardroom. The many close friends he has made during his preparation within this institution ask no more than that they may be shipmates with Warren.
Loss
Warren was lost in an aircraft accident near Jacksonville, Florida, on December 18, 1943.
From Find A Grave:
Lieut. Warren Potter Strong, Jr., age 25, passed away Sunday at Jacksonville, Florida. Survived by wife, Mrs. Patsy Ann Strong; parents, Mr. and Mrs. W. P. Strong, Sr., Plymouth, Mass. Services Weiland Funeral Church, Thursday 10 a. m. Interment Grove Hill Cemetery.