WARREN W. BOLES, LTJG, USN
From USNA Virtual Memorial Hall
Lucky Bag
From the 1965 Lucky Bag:
Loss
From Find A Grave:
Marblehead Flier Killed in Viet Crash

Marblehead-Navy Lt. J.G. Warren W. Boles, 27, of 95 Front St., was killed in a plane crash over the Gulf of Tonkin, Vietnam, Thursday, while on a combat mission, according to a Navy dispatch to his parents.

A jet fighter pilot, he was assigned to the aircraft carrier Kitty Hawk and had been in Vietnam Six months.

Lt. Boles was a 1958 graduate of Marblehead High School and had served in the Marine Corps until 1961. He then entered the U.S. Naval Academy and graduated in 1965.

His father, Navy Capt. Warren C. Boles, Ret., served aboard the USS Helena which was sunk in action during World War II. Capt. Boles is now a civilian instructor at the Academy.

Besides his parents, he leaves his wife, Susan of Beeville, Tx. A memorial service is scheduled there tomorrow.
From the April 1968 issue of Shipmate:
Lt(jg) Warren W. Boles, USN,died 18 Jan. while on a combat mission over the Gulf of Tonkin, Vietnam. He had been serving with Fighter Squadron 114, based in U S S KITTY HAWK. Memorial services were held on board ship, and at the Naval Auxiliary Air Station, Chase Field, T e x . A memorial stone will later be engraved in his memory and installed at Waterside Cemetery, Marblehead, Mass.

Lt. Boles, who was a native of Marblehead, served in the Marine Corps and attended Tufts University before entering the Naval Academy. He was graduated in 1965. As a midshipman he earned three letters in crew, and was an expert rifle and pistol shot. He completed training at Pensacola. and at the Naval Auxiliary Air Station, Beeville, and was designated a naval aviator in February 1967.

Prior to his last assignment with VF-114, he had served with VF-121. He held the Marine Good Conduct and the National Defense Service Medals.

Surviving are his widow, the former Susan Hellen Bunker of 201 N. Berry St., Beeville, Tx. 78102; his father, Capt. Warren Chandler Boles, USN (Ret) of Arnold, Md.; his mother, Mrs. Harriet Conant Dutton of 95 Front St., Marblehead, and a brother George, also of Marblehead.
From Find A Grave:
On January 18, 1968, he and his radar intercept officer (RIO), Lt.JG Ron Roehrich launched in their F4B Phantom fighter aircraft as the second plane of a two-plane section.

Their assigned mission was as Barrier Combat Air Patrol Mission to protect friendly air and surface units in the Gulf of Tonkin.

Boles descended through a low overcast and positively identified the contact as a non-hostile, cargo-type ship. Seconds later, radio and radar contact were lost with Bole's aircraft.

Search and rescue helicopters were immediately sent to the scene and confirmed, by a fuel slick and debris, that the aircraft had crashed at sea. No survivors were found.

Boles and Roehrich perished in the unexplained crash of their aircraft that January day in 1968.
Remembrances
I hope you and dad are together again. JEFFREY D. BOLES, 12/24/13, Warren's nephew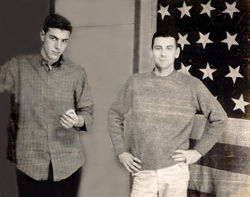 I remember Bill Boles from 1959 when he was a freshman at Tufts University and lived down the hall from me on the third floor of Miller Hall. I was a junior and will always remember him as a friendly and a KIND person. This photo is of Bill (on the left) and his roommate, Gerry Billadeau, in Miller Hall on January 11, 1960. ART ROTONDI, AROTOND@YAHOO.COM, 3/26/12
Other
His father received the Navy and Marine Corps Medal for his heroic actions following the sinking of USS Helena (CL 50) during WWII.
Memorial Hall Error?
Warren is not listed on the killed in action panel in the front of Memorial Hall. While not an obvious error, inclusion on the panel for crashes like this (incidental to combat flights) has been inconsistent across WWII, the Korean War, and the Vietnam War.
Warren is one of 23 members of the Class of 1965 on Virtual Memorial Hall.