WILBUR D. WRIGHT, CAPT, USAF
From USNA Virtual Memorial Hall
Lucky Bag
From the 1958 Lucky Bag:
Loss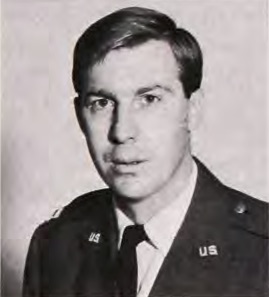 From the January 1970 issue of Shipmate:
Capt. Wilbur D. Wright, USAF, died 8 Oct. in a military aircraft accident at Castle Air Force Base, Calif. Memorial services were held at Castle Air Force Base with interment in Arlington National Cemetery.

Capt. Wright was born in Philadelphia, Pa., attended Wyoming Seminary and was graduated from the Naval Academy in June 1958. After bombardier-navigator training, he was designated an electronics warfare officer and served at Hill Air Force Base, Utah, Dow Air Force Base, Maine, and J. Connally Air Force Base, Texas, and had Vietnam duty. Capt. Wright was serving as electronics warfare officer with the 93rd Bombing Wing, Castle Air Force Base, at the time of the accident.

Among other awards, he held the Distinguished Flying Cross, two Air Medals, and the Vietnam Service Medal with three Bronze Stars. Survivors include his widow Annette of 2924 Madison Ave., Ogden, Ut. 84403; a daughter Yvonne and a stepson Christen; his father and stepmother Mr. and Mrs. Orville Wright of 5856 Chestnut St., Philadelphia, Pa. 19139, and a brother LCdr. Orville Wright Jr., USN '56 of 3517 Bow Creek Blvd., Virginia Beach, Va. 23452.
From KSLA:
October 9, 1969 - A USAF B-52F-70-BW, 57-0172, of the 329th Bomb Squadron, crashed about 1,000 feet beyond end of runway while doing touch-and-goes at Castle AFB, California. All six crew died in the 11:45 p.m. accident as the Stratofortress exploded on impact.
Wilbur is buried in Arlington National Cemetery. His gravestone has the inscription "Pilot, Cherished Husband, Loving Father."
Wilbur is one of 28 members of the Class of 1958 on Virtual Memorial Hall.
The "category" links below lead to lists of related Honorees; use them to explore further the service and sacrifice of the alumni in Memorial Hall.