WILLIAM G. STEPHENSON, III, 1LT, USAF
From USNA Virtual Memorial Hall
Birthdate & Date of Loss
| | |
| --- | --- |
| Date of birth: | unknown |
| Date of death: | April 10, 1953 |
| Age: | unknown |
Lucky Bag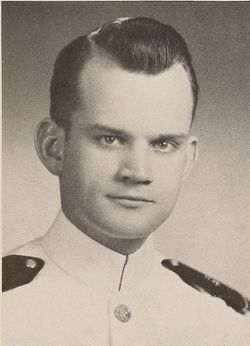 From the 1951 Lucky Bag:
William G. Stephenson, III

St. Louis, Missouri

"Happy Times" Steve came a long way to us from St. Louis. . . the city of "beautiful femmes" ... an ardent fan of dancing . . . likes his partners savvy, small, and informal . . . but a career in the air is his passion ... a walking encyclopedia of aircraft old and new . . . has designed and constructed numerous model speedsters which due to circumstances beyond his control seem to have trouble becoming airborne . . . Russian proved to be his only stumbling block in the Academic field, but unlike Napoleon, he finally mastered the subject during youngster year and has starred ever since ... fighting spirit combined with unfailing good judgment should prove to be the outstanding factors in Steve's success in all he does.
He was also a member of the 23rd Company staff (fall).
Loss
Steve was lost when the F-47 Thunderbolt he was aboard was lost over eastern Lake Ontario on April 10, 1953; he was enroute to Portland, Oregon.
Unable to find any burial site or memory marker. The one listing for him has an incorrect date of death.
Other
From The Eugene Guard on April 26, 1953:
1ST LT. WILLIAM G. STEPHENSON III. 47th Fighter Interceptor Squadron pilot at Niagara Falls Municipal Airport, N.Y., has been appointed to the Graduate School at Princeton University, Princeton, NJ. Lieutenant Stephenson was awarded a Guggenheim grant for graduate study in jet propulsion. Only 12 such grants are awarded annually. Stephenson is the son of Mr. and Mrs. Bennett Stephenson…
This appointment had been made April 9th, the day before he was lost.