WILLIAM K. COKER, CDR, USN
From USNA Virtual Memorial Hall
Lucky Bag
From the 1943 Lucky Bag:
Loss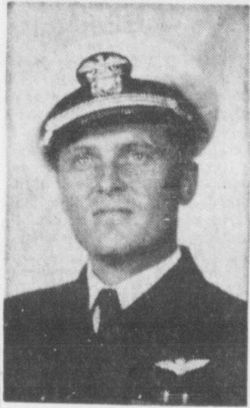 From the December 1958 issue of Shipmate:
Notice has been received of the death of WILLIAM K. COKER, Cdr. USN, due to an aircraft accident near Mayport, Fla., on 2 October 1958.

He is survived by his widow, Nora Reid Coker, 5428 Fulton St., San Francisco, Calif., a daughter, Karen Marie, and his mother, Mattie Dennis Coker of Athens, Texas.
The A3D Skywarrior he was piloting "exploded shortly after takeoff" and crashed into a swamp 25 miles south of NAS Jacksonville, Florida. The copilot was also lost. They were both members of Heavy Attack Squadron (VAH) 1.
He has a memory marker in Texas.
Memorial Hall Error
William is not listed with his classmates. This omission was discovered by reviewing Shipmate magazine.
William is one of 83 members of the Class of 1943 on Virtual Memorial Hall.