ALAN B. WOOD, ENS, USN
From USNA Virtual Memorial Hall
Birthdate & Date of Loss
| | |
| --- | --- |
| Date of birth: | unknown |
| Date of death: | May 26, 1950 |
| Age: | unknown |
Lucky Bag
From the 1948-A Lucky Bag: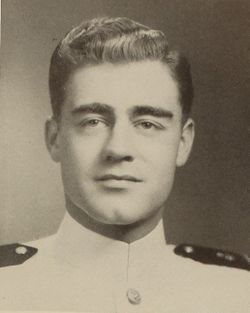 Alan Beauchamp Wood

Daytona Beach, Florida

Woody entered the world as a Georgia "Cracker," but soon transferred his allegiance to the State of Florida. After a year at Purdue he went to the Naval Air Corps, and from there he found his way to Navy. Because of his collegiate background and alert mind Woody encountered no trouble with academics, and found time to engage in numerous extracurricular activities. He earned numerals for tennis, gymnastics, and soccer, and still had time to sing with the choir. Al looks forward to getting back into Naval Aviation, where his quiet initiative will insure success. Easygoing but serious and dependable, he's the kind of guy you want around.
He graduated with the class of 1948-A, the last of the wartime-accelerated classes, in June 1947. (The bottom half of the class by academic standing, designated 1948-B, completed an extra year and graduated in June 1948.)
Loss
Unable to find details on Alan's life or loss, except that he died on May 26, 1950 in an "aircraft accident." He has a memorial plate on a seat at Navy–Marine Corps Memorial Stadium. From Class of 1948:
ALAN BEAUCHAMP WOOD
CLASS OF 1948
1924-1950
BY JOHN W SHARP 1948
29-27-13