GORDON R. ENGEL, LCDR, USN
From USNA Virtual Memorial Hall
Lucky Bag
From the 1948 Lucky Bag: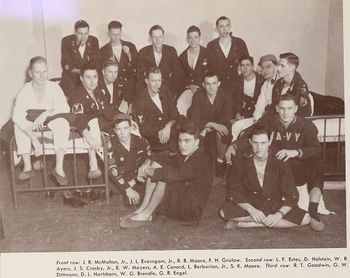 Loss
From a write-up in the Coronado News on Gordon's younger brother, Richard:
Unfortunately, his brother and inspiration, LCDR Gordon Engel was killed at the pinnacle of his career when an aircraft he was launching off of aircraft carrier USS Roosevelt near the coast of Florida, crashed when the catapult malfunctioned.
That crash was on November 14, 1961.
Marriage
From Coronado Eagle and Journal, Number 40, 21 September 1950:
ENSIGN HELEN HUNTER, USN, WEDS ENSIGN GORDON ENGEL, USN, IN LOS ANGELES

Ensign Helen K. Hunter, U.S. Navy Nurse Corps, became the bride of Ensign Gordon Reed Engel, USN, in a beautiful candlelight ceremony in Grace Episcopal Church, Los Angeles, last week. The service was read by Rev. Douglas Stuart, rector of Grace parish, and Rural Dean of Los Angeles. The bride, daughter of Mr. and Mrs. Albert Claude Hunter of Los Angeles, was given in marriage by her father.

She was married in traditional candlelight cream satin with sweetheart neckline, a full skirt with cathedral train. Her fingertip veil of illusion net cascaded from a pearl banded Juliet cap.

Ensign Engel, USN, is the son of Mrs. Wilson F. Engel and the late Mr. Engel of Minneapolis, Minn. Members of his squadron from the Naval Air Station served as ushers at the wedding, and included Lt. (jg) Lionel Hemphill, USN; Ensign H. L. Hendricks Jr., USN; Ensign H. F. Smith Jr., USN, and Ensign John C. Imhoff, USN. The groom and his ushers wore white service uniforms.

A reception for 150 guests followed in Grace Church parish hall, where the wedding cake was cut with the groom's sword.

The bride is a graduate of Los Angeles General Hospital, and is presently on duty at the Naval Air Station. The bridegrbom graduated from the Naval Academy in the class of 1948, and took his flight training at Corpus Christi. He is also on duty at the Naval Air Station.

The young service couple purchased a home in Coronado before their marriage, and following their honeymoon will make their home here.
Family
Gordon had an older brother, Wilson Engel '46, and a younger brother (above), Richard Engel '59. His father was a graduate as well, though no name or class is given. He also had three younger sisters Barbara, Janet, and Margaret.
Other
Gordon is co-author of "Influence of lateral-directional responses on flying qualities," his dissertation from the Naval Post Graduate School. It was published in May 1961.
Related Articles
Nello Da Rodda '48 also participated in the Masqueraders.
Gordon is one of 48 members of the Class of 1948 on Virtual Memorial Hall.
The "category" links below lead to lists of related Honorees; use them to explore further the service and sacrifice of the alumni in Memorial Hall.