GORDON R. ENGEL, LCDR, USN
From USNA Virtual Memorial Hall
Lucky Bag
From the 1948 Lucky Bag: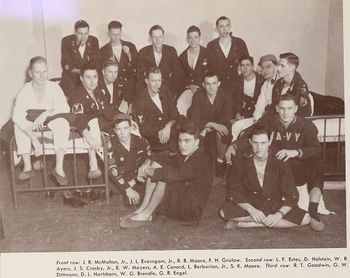 Obituary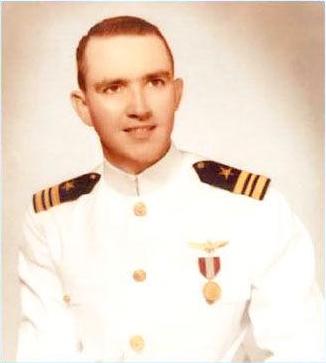 From the Eagle & Journal (Coronado, California) on that city's Avenue Of The Heroes:
Lieutenant Commander Gordon Reed Engel's achievements are a statement of American excellence: Ivy League scholar, Navy attack aircraft pilot, devoted father, and the second of three brothers to graduate from the U.S. Naval Academy.

"The guy is a well spring of energy," begins the profile written by his classmates, next to Engel's graduation photo in the Academy's 1948 yearbook the "Lucky Bag." The profile goes on to say that for Engel, "No task is too great…no detail is too small."

That indomitable spirit ignited an exceptional Naval pilot's career, with Engel rapidly rising through the officer ranks, only to be felled by tragedy on November 14, 1961.

Thirteen years into his career, Engel was executive officer and prospective commanding officer of an A4 Attack Squadron based at NAS Cecil Field, Jacksonville, Florida. During a routine exercise off the Florida coast, the catapult on the aircraft carrier USS Roosevelt, (CVA 42), malfunctioned, failing to get Engel's single-seat A4 Skyhawk airborne. Unable to eject, Engel was instantly killed. He was 35 years old.

A Minnesota native, Engel was born March 14, 1925, and raised in southeast Minneapolis where his parents, Margaret and Wilson, instilled military service as an Engel family value. His father was a World War I veteran of the Army's Rainbow Division, which was comprised of National Guard units from 26 states and the District of Columbia.

After graduating from Washburn High School in 1943, Engel spent a year at Dartmouth College before being appointed to the Naval Academy. His older brother, Wilson F. Engel, was already at Annapolis, two years ahead in the Class of 1946. His younger brother, Richard Engel, followed years later in the Class of 1959. Gordon graduated in the class of 1948-B.

After Naval Flight School in Pensacola, Florida, Engel received his aviator's wings in February 1950 and orders to NAS North Island in Coronado. Soon after arriving, he met the love of his life, Helen Hunter, or "Rusty," as friends knew her, a Navy nurse assigned to Balboa Naval Hospital in San Diego. Their story reads like a Hollywood screenplay, with Engel driving on the freeway when he first saw the fair-skinned, green-eyed redhead in a green Pontiac convertible. Instantly smitten, Engel followed her car until she parked. He introduced himself to Rusty as "the man you are going to marry." Rusty, however, was already engaged to a doctor she worked with and, having lost her only sibling in a World War II aviation mishap, Rusty had vowed never to date, much less marry, a "flyer." Engel, in time, convinced her otherwise. The two were married on Sept. 2, 1950.

The couple's first Coronado home was at 150 I Avenue. They later moved to Tolita Avenue where their first son, Reed, was born. Their second son, Steven, was born during test pilot training. Their third son was born in 1956. After his birth, Engel proclaimed to his wife, in true aviator fashion: "Mach III, honey – we've broken the sound barrier for a third time!" And thus, Mark got his name.

Naval Post-Graduate School in Monterey, California, was next. Then the family was off to a quaint country house on a working farm in New Jersey while Engel earned his master's degree in aeronautical engineering at Princeton University.

Their last move together was to Cecil Field. After Gordon's accident, Rusty and the boys returned to Coronado and lived in their Country Club home.

Raising three boys alone was not easy, but in time Rusty watched them grow up to be as tough and principled as their parents. The sons became carpenters and home builders, designing and building Rusty's dream home on a hillside in Aptos, California, overlooking Monterey Bay, where she enjoyed many sunsets until her passing in July 2000.

Along with his sons, Engel is survived by his younger brother LCDR Richard Engel, USN (Ret.); sisters Barbara and Margaret; and several grandchildren. His sister Janet died in 2004 and his older brother, Capt. Wilson F. Engel, EDO, USN (Ret.), died in 2009.
He was executive officer and prospective commanding officer of Attack Squadron (VA) 12.
Marriage
From Coronado Eagle and Journal, Number 40, 21 September 1950:
ENSIGN HELEN HUNTER, USN, WEDS ENSIGN GORDON ENGEL, USN, IN LOS ANGELES

Ensign Helen K. Hunter, U.S. Navy Nurse Corps, became the bride of Ensign Gordon Reed Engel, USN, in a beautiful candlelight ceremony in Grace Episcopal Church, Los Angeles, last week. The service was read by Rev. Douglas Stuart, rector of Grace parish, and Rural Dean of Los Angeles. The bride, daughter of Mr. and Mrs. Albert Claude Hunter of Los Angeles, was given in marriage by her father.

She was married in traditional candlelight cream satin with sweetheart neckline, a full skirt with cathedral train. Her fingertip veil of illusion net cascaded from a pearl banded Juliet cap.

Ensign Engel, USN, is the son of Mrs. Wilson F. Engel and the late Mr. Engel of Minneapolis, Minn. Members of his squadron from the Naval Air Station served as ushers at the wedding, and included Lt. (jg) Lionel Hemphill, USN; Ensign H. L. Hendricks Jr., USN; Ensign H. F. Smith Jr., USN, and Ensign John C. Imhoff, USN. The groom and his ushers wore white service uniforms.

A reception for 150 guests followed in Grace Church parish hall, where the wedding cake was cut with the groom's sword.

The bride is a graduate of Los Angeles General Hospital, and is presently on duty at the Naval Air Station. The bridegroom graduated from the Naval Academy in the class of 1948, and took his flight training at Corpus Christi. He is also on duty at the Naval Air Station.

The young service couple purchased a home in Coronado before their marriage, and following their honeymoon will make their home here.
Other
Gordon is co-author of "Influence of lateral-directional responses on flying qualities," his dissertation from the Naval Post Graduate School. It was published in May 1961.
Related Articles
Nello Da Rodda '48 also participated in the Masqueraders.
Gordon is one of 48 members of the Class of 1948 on Virtual Memorial Hall.
The "category" links below lead to lists of related Honorees; use them to explore further the service and sacrifice of the alumni in Memorial Hall.