NELLO A. DA RODDA, LTJG, USN
From USNA Virtual Memorial Hall
Birthdate & Date of Loss
| | |
| --- | --- |
| Date of birth: | unknown |
| Date of death: | November 3, 1952 |
| Age: | unknown |
Lucky Bag
From the 1948-A Lucky Bag: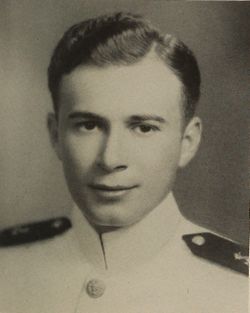 Nello Alphonso Da Rodda

Summit Hill, Pennsylvania

Nello came to Annapolis with two years of previous Fleet experience. His supply of repartee was seemingly inexhaustible. Unfailingly he took a last-minute glimpse at the books before going to class. His athletic prowess was well exhibited as the man behind the varsity oarsmen, a husky coxswain. If he wasn't calling "stroke," he flaked out. Irish took to Dago like a duck to water. His opinion of extra duty was that "when it rains, it pours!" Navy could usually find something to occupy his free time. Nello hopes to enter the air corps and/or submarines after graduation.
Nello was a member of the Trident Calendar staff, of the Christmas Card Committee, and was on the Masqueraders. He graduated with the class of 1948-A, the last of the wartime-accelerated classes, in June 1947. (The bottom half of the class by academic standing, designated 1948-B, completed an extra year and graduated in June 1948.)
Loss
Nello was lost when the plane he was piloting crashed in Virginia on November 3, 1952. Can't determine type of aircraft, or squadron.
A news report cited a brother, but gave no name. Believe it might be Aldo Jacinto Da Rodda, himself a Naval Officer. Doesn't appear that Aldo graduated USNA, though he appeared in the 1964 Lucky Bag as a LCDR instructor in the foreign languages department.
Related Articles
Gordon Engel '48 also participated in the Masqueraders.
Note
Memorial Hall spells his last name without a space; believe this to be incorrect.